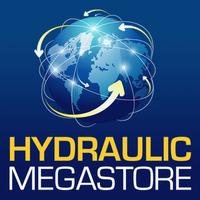 Hydraulic Megastore Calculator
Free Get
Screenshots for iPhone
More Screenshots for iPad
Hydraulic Megastore Calculator Description
Hydraulic Megastore have developed a series of hydraulic calculators designed for people involved in the fluid power industry day to day.
Our range of calculators include:

Hydraulic Cylinder Calculator – Calculate the retraction and extension forces a cylinder is capable of, a cylinder's maximum oil volume capacity and rod extension & retraction speeds when given known values of the cylinder.

Hydraulic Tank Volume Calculator – Enter your tanks dimensions to see how many litres of hydraulic oil your tank can hold.

Hydraulic Motor Calculator – This calculator can be used in three different ways depending on the know values you have.
If you know the flow rate and motor displacement you can work out the motor speed. If you have the motor speed and displacement you can work out the flow rate. If you have the flow rate and motor speed you can work out the oil displacement from the motor

kW Power Calculator – This calculator allows you to work out the amount of electrical power required for your system given certain know values such as pressure and flow.

Gear Pump Calculator – Our gear pump calculator is used to work out the amount of oil displaced by a hydraulic gear pump by measuring the internal gears.

Thread Identification Help – We've made a huge document detailing most of the common hydraulic threads and listed their measurements along with other important information to make it simple for people trying to identify a hydraulic fitting while in the field.

Build a Power Pack – We've developed a custom power pack builder on our website so that customers can login and build a power pack to their exact needs, anything past the scope on our website then you should get in touch with us and we can discuss your requirements. There is a link to this in the App.

Build a Hydraulic Hose – A link to our website, which has a comprehensive hydraulic hose builder system. Choose from many different types of hose, sizes and thousands of end fittings, fully customisable, choose your length, fitting on each end, degree of fitting rotation and so much more!