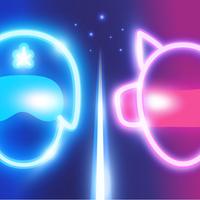 Hyperspeed - Race with Friends
Not Available
Removed
from the App Store
Hyperspeed - Race with Friends Description
Fly into the future of social gaming. Hyperspeed is a fast paced racing game where you can play against your friends or anyone in the world. Now you can even talk to your opponents through live video while you play!

Put your Gameface on and join the race - Space awaits you.

Main features of Hyperspeed:

Real-Time Gameplay
Go head-to-head against your friends or anyone around the globe in real-time. You can even talk to your opponents while you try to outrun them. Have a friendly conversation with people you just met or even try to effect your opponent's concentration.

Power-Ups
Power-ups add to the excitement of the game and come with great advantage. Power-ups can come to your aid – but you can also use them to attack your opponents' Starship.

Gamefaces
Express yourself with one of our stunning AR Gamefaces. From a collection of dozens Gamefaces, you are sure to find one that matches your style.

Missions & Ranks
With our Missions you will also have the opportunity to compete against yourself. Complete the missions and rise through the ranks. Each rank even comes with an impressive title.

Leaderboards
You are not only going head to head against a single opponent, you are competing against the whole galaxy. With our separate leaderboards you can easily follow the progress of your friends as well as local racers from your city.

Chat
Between games you can chat with your friends and even schedule your next race.


Support email: support@teatime.games

Community guidelines: https://www.teatime.games/community-guidelines

Hyperspeed Facebook page: https://www.facebook.com/hyperspeedapp/

Please note that under our Terms of Service and Privacy Policy, you must be at least 13 years of age to play Hyperspeed. The game also requires a network connection.
Hyperspeed - Race with Friends 1.1.0 Update
We are introducing the new Hyperspeed character system! Earn essence at the end of each race and evolve your characters. Unlock them all to show your personality and shine in space!
Have you ever felt uncomfortable in front of the camera? No worries, you can now turn it off and back on at any time.
Teabot is now full of emotions, he'll get sad when he's losing and happy when he's ahead. But be careful we're sure you don't want to see him celebrate a victory.
We've also been working hard on improvements and bug fixes for your next race to be smooth.
More