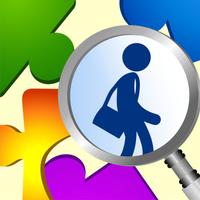 iAssessNTeach School Series
Not Available
Removed
from the App Store
Screenshots for iPhone
More Screenshots for iPad
iAssessNTeach School Series Description
This app is a great assessment tool for professionals and parents involved in the education of School Age children with autism spectrum disorder. It addresses specific needs of School Age Students on the autism spectrum.

The app systematically assesses skill areas in all domains. The result of assessments can be used for establishing teaching goals for the individual.

iAssessNTeach School Series is based on the Eden Autism Services (EAS) School Series Assessment and Curriculum protocol for skills acquisitions. EAS has been a leader within the serving autism community since 1975.

This app includes following domains addressing various needs of students with autism spectrum disorder –

Cognitive: includes task-analyzed teaching programs covering the skill areas of Learning Readiness, Pre-Academics, Academics, and Classroom Language/Social/Play.

PE/Recreation & Leisure: skill which can positively impact the overall development of students with ASD
Self-Care / Domestic: includes skills that need to be taught in home environment
Speech and Language : addresses the unique speech, language and communication needs
Vocational: skills designed to prepare individuals with autism and developmental disabilities for adult life and the world of work.

This app requires user registration in order to provide individualized reporting of the score, progress tracking and analysis. User registration is also used for customization of the assignment of the new educational material delivered through the app as the user progresses with the targeted skills.

** Pricing **
When first using this app, you are given a 90-day trial period. Once that period is up, you will need to purchase a subscription to continue use:
1 Student - $39.99 per month
6 Students - $19.99 per month

** Features **

Includes multiple skills domains
Each registered user (Evaluator) can assess multiple students
Each student can have multiple assessments
Each assessment has multiple program or skill set
Each program includes skills from a specific domain
Each skill lists expected behavior for 3 categories – Achieved, Partial, Not in Repertoire
The evaluator records observation
Assessments results can be tracked
Goals are automatically set based on Assessment result

***About WebTeam Corporation***

Incorporated in 2005, WebTeam Corporation is a Somerset-based mobile application development firm that has pioneered the development of ColorsKit, an autism management toolkit comprising screening, assessment and intervention apps. ColorsKit helps parents, teachers, health care experts, researchers and other stakeholders worldwide efficiently manage the entire life-cycle of autism from infancy to adulthood and employment.

Apps for autism intervention are one of the key components of ColorsKit. These apps replicate individualized autism services on mobile devices, thereby making these necessary services available to the under-served population globally, especially in countries that lack the expertise necessary to tackle autism efficiently and in a cost-effective manner.

WebTeam's proprietary technology was awarded by Verizon in the 2013 Powerful Answers Award competition. WebTeam's enterprise solution addresses the entire life cycle of autistic individuals – from screening and education to building vocational skills leading to employment and improving opportunities for mainstreaming.

WebTeam's holistic approach to autism management allows caregivers and other stakeholders to collect and share data efficiently, thereby fostering effective collaborations that will ultimately solve one of the world's largest and growing developmental disorders.

Note: You will need Wi-Fi connectivity to download and use this app.
iAssessNTeach School Series 1.1.0 Update
Compatible up to iOS version 6.0
More
More Information
Language:

Chinese

Czech

Dutch

English

French

German

Italian

Japanese

Korean

Polish

Portuguese

Russian

Spanish

Swedish

Turkish

More