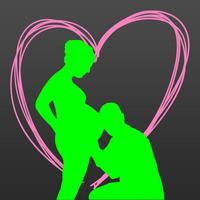 iBabyBeats - Baby Heart Monitor
$1.99
iBabyBeats - Baby Heart Monitor Description
When you are expecting a baby, you did not want to wait for the visit to the gynecologist to hear the sound of his little heart. How do I overcome this? Simple! From today you can get iBeats.

This is a revolutionary App that allows you to listen and record your child's sounds, not only heart beat, but also kicks, sobs and movements of your baby.

BENEFITS:

> LISTEN MODE: the app is always in listen mode. You can monitor your child "live" all the times you want.

> RECORDING MODE: you can record your child and store all the sounds. You will always have audio files ready to be listened.

> LIST: you can easily browse inside all your records and use "PLAY and SHARE" options.

> PLAY OPTION: you can listen your records all the times you want.

> SHARE OPTION: you can share your audio file with your friends/family just sending it via email.

Here some important note:

> AIRPLANE MODE
the app is absolutely not dangerous for you and your child, anyway... you can set Airplane Mode! The app is built to work without internet connection

> SECURITY
this app is completely secure! We decided to avoid the use of social network feature because we ask us for a completely secure app. You can only share via email and only using Mail app.

> QUALITY OF RECORDING
We strongly suggest to use earphones without microphone. In this case the App will be able to use the extreme powerful insight mic. Take a look of the help page, the arrow will indicate the exact position of the mic (depends on the iPhone version)

WARNINGS:
This app is for recreational use, is a good starting point for understanding how the baby sound is. Please note, the use of this application does not exclude or alter the importance of medical consultation.
iBabyBeats - Baby Heart Monitor 1.0 Update
More Information
Language:

English

Italian

More