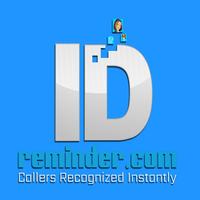 IDr Reminder
Free Get
IDr Reminder Description
REMEMBERING Your Client is the thing of the PAST!!!

IDreminder App will recognize the caller for you…instantly…

NEVER BE STUCK WITH EMBARRASSING MOMENT ESPECIALLY
WHEN YOU DON'T REMEMBER WHO THE CALLER IS!!!

IDEA & CONCEPT: An app that actually keeps track of all of your contacts, personalized notes, pictures and when the call comes in, anything you have created that contact will appear on the screen for IMMEDIATE MEMORY or RECOGNITION of who the caller is. Our coolest features and cutting edge algorithm allows user to pull anything and everything about that contact in the personalized context which is from your phone and in the public space; Ex: Social networking accounts such as FB, Twitter, Linked, that user has on the internet including email, and texts.

With IDreminder App
CALLERS ARE RECOGNIZED INSTANTLY!!!

This Clever iPhone App will instantly remind you about the caller's Company
Name, favorite hobbies, and even which school their son go to.

WHY IDreminder?

Because it feels awkward when you don' t have a clue who the caller is.
Because the average human mind only retains 5% of the info after 24 hours.
Because the app helps refresh your memory even if the caller hasn't called for months or years.
Because as an Entrepreneur it is crucial that you remember all the details about your clients.
Because remembering the callers makes them feel special knowing that you care.

BENEFITS: Because you have better things to do instead of trying to remember all of your clients, who they are, what they are like, and where you've met them. Why not let IDreminder App do the remembering for you? After all you will be better of focusing your energy on something else like building your business, cultivating new clients, and expanding your company.

The IDreminder App is great tool for all Entrepreneurs, Business Owners, Loan Brokers, Real Estate Agents, Doctors, Lawyers, Contractors, Architectures, and everyone that interact with customers daily.
More Information
Language:

Chinese

English

French

German

Indonesian

Italian

Japanese

Korean

Polish

Russian

Spanish

More