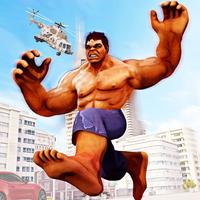 Incredible Super Hero Monster
Not Available
Removed
from the App Store
Screenshots for iPhone
More Screenshots for iPad
Incredible Super Hero Monster Description
Get your hands moving for the arrival of Incredible Monster City Hero in a free to play action open world gun shooting free to roam adventure survival game! Based in an immersive, breathtaking & eventful 3D environment this open world free roam strange super mutant monster hero game offers incredible stealth combat, fighting, gun shooting & strategy survival gameplay. It allows you to feel like an incredible strange super mutant monster hero of your city. Fight street gangsters, mafia thugs, criminals & villain terrorists by using modern weapons like supernatural rope, assault rifles, machine guns, snipers guns, m4a1 and AK47. Other than modern weapons & super guns use your strange hero mutant monster skills & powers to kill the villain terrorists, gangsters & criminals to save your city. This free to roam 3D action adventure & survival game will make you kill dangerous terrorists, gangsters, criminal mafia, street thugs & fight villains in order to save your city like a true monster hero. City police, special forces, military, army navy, air force, commando & soldier will help you fight & overcome extreme crime in your city. Evil & villain terrorists & criminals are equipped guns so expect a lot of shooting, to counter your attack but you have to continue fighting, shooting and killing to save your city.

People of your city trust you with the security of their city from criminals and terrorists as you are the super monster hero of your city. Military army has been conducting special ops missions to fight & kill these villain terrorists & criminals. These kind of missions are conducted with the help of special forces who are skill in fighting & gun shooting, modern weapons & guns, warship aircrafts, airplanes, gunship helicopters & fighter jets. Commando army soldiers are equipped with assault rifles, sniper, m4a1, pistols, bombs, grenades and AK47. Army military commando soldiers have been using army sniper shooters to fight, kill & restore the peace of city. But now military army requires your help to kill theses terrorist criminals & get rid of them once and for all. With your super mutant monster strange supernatural powers, fighting, combat war, gun shooting skills & help they will be able to restore the peace of your city. Free roam the city, drive around in cars, climb the buildings, fight terrorists & crime & be a true monster hero in this thrilling action filled free game.

Strike hard at the enemy as you are the super monster hero & counter all enemy attacks to increase your chances of survival. Your city does not need any spider hero with supernatural rope as you are enough to combat the enemy equipped with modern weapons. Face all the gun shooting fearlessly & shoot back at enemy to save the pedestrians on the roads full of traffic. The peace of your city depends on you & your survival. Drive cars, race, drag & drift the throw the traffic or climb the building. Pick up the cars to throw at the enemy, fight & shoot back when the shooting starts. It's a war against criminals & terrorists, it's a war of survival. Win this battle, survive & save your city to be the true war assassin monster hero.