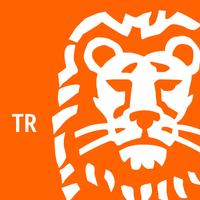 ING Mobil
Free Get
ING Mobil Description
ING Mobil, bireysel ve kurumsal bankacılık işlemlerinizi yapabildiğiniz bir uygulamadır.

ING Mobil ile para transferlerinden vergi ödemesine, fatura ödemesinden döviz alış satış işlemlerine kadar tüm finansal işlemlerinizi internete bağlı olduğunuz her yerden kolayca gerçekleştirebilirsiniz.

Kurumsal müşterilerimiz, ayrıca, yetki ve onayları dahilinde, ING Mobil uygulamasında onaya düşen bankacılık işlemlerini bildirimler üzerinden görüntüleyebilir ve işlemlerini onaylayabilirler.

ING Mobil uygulamasını kullanmaya başlamak için İnternet Şubesi / ING Mobil şifreniz olması yeterlidir. Şifreniz yoksa, Yardım İstiyorum adımı altında yer alan "İlk kez şifre alıyorum"a tıklayarak kredi kartı ya da nakit kart numaranız ile şifrenizi anında alabilirsiniz.

ING Mobil Bireysel'de neler yapabilirsiniz?
- Hesap İşlemleri
- Para Transferleri (EFT/Havale)
- Kredi Kartı İşlemleri
- Ödemeler (Fatura Ödeme/ Cep Lira / Kurum Ödemeleri / Kredi Ödemeleri)
- Yatırım İşlemleri ( Döviz Alış/Satış, Repo ve Fon İşlemleri)
- ING Asistan
- Başvurular (İhtiyaç Kredisi / Bonus Kart / e-Turuncu / Sigorta / Destek Hesap / Findeks Risk Raporu)

ING Mobil Kurumsal'da neler yapabilirsiniz?
- Hesap İşlemleri
- Para Transferleri (EFT/Havale)
- Kredi Kartı İşlemleri
- Ödemeler (Fatura Ödemeleri / MTV ve Trafik Para Cezası Ödemeleri / Gümrük Vergisi / SGK Ödeme / Cep Lira Yükleme)
- Yatırım İşlemleri (Döviz Alış/Satış, Repo ve Fon İşlemleri)
- Çek İşlemleri
- Onay/İptal İşlemleri

Diğer İşlemler
- QR Kod ile giriş
- ATM-Şube Bulucu
- Sıramatik
- Döviz Çevirici
- Cep Şifre (İngilizce ve Türkçe)
- Fast Track (Bireysel)
- Hesaplama Araçları (Bireysel)
- Başvurular (Bireysel)

ING Mobile is a financial application for retail and corporate customers.

Through ING Mobile application, transactions like money transfers, tax payments, bill payments and FX buy/sell can be done easily.

Corporate customers can see approve transactions through push notifications

ING Mobile Retail includes:
- Account Transactions
- Money Transfers
- Credit Card Transactions
- Payments (Bill Payments / Mobile Top-Up / Fundation Payments / Loan Payments)
- Investment Transactions (FX Buy/Sell, Repo and Fund Transactions)
- Orange Assistant
- Applications (Loan / Credit Card / e-Orange Account / Insurance / Overdraft / Findeks Risk Report)

ING Mobile Corporate includes:
- Account Transactions
- Money Transfers
- Credit Card Transactions
- Payments (Bill Payments / Motor Vehicle and Penalty Fine / Customs Tax / Social Security Payments / Mobile Top-Up)
- Investment Transactions (FX Buy/Sell, Repo and Fund Transactions)
- Check Transactions
- Approve/Cancel Transactions

Other Transactions:
- Login with QR Code
- ATM/Branch Locator
- Qmatic
- Currency Converter
- PIN Generator (English and Turkish)
- Fast Track (Retail)
- Calculation Tools (Retail)
- Applications (Retail)
ING Mobil 5.4.4 Update
+ QR kod teknolojisi ile kartınız yanınızda olmasa da kredi ödeme ve para çekme işlemlerinizi kolayca gerçekleştirebilirsiniz.
+ Ferdi Kaza Sigortası başvurularınızı artık ING Mobil ile hızlıca yapabilirsiniz.
+ Şahıs firmaları da artık Turuncu Ekstra ile e-Turuncu ve Turuncu TL hesaplarına %2 ek faiz kazanabilecek!
+ ING Mobil Kurumsal'a genel vergi ödeme seçeneği eklendi.
+ Performans geliştirmeleri yapıldı.
+ Using QR code technology, make your loan payments and withdraw money easily without carrying your card with you!
+ You can quickly apply for Personal Accident Insurance with ING Mobile.
+ Our self-employed clients can benefit from Orange Extra and earn 2% additional interest on e-Orange and Orange TL accounts.
+ General tax payment function has been added to Corporate ING Mobile.
+ Performance enhancements have been carried out.
More
More Information
Language:

English

Turkish

More