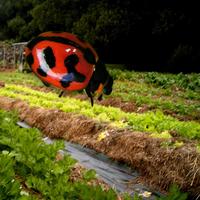 Insects & Organic Gardening
$4.99
Insects & Organic Gardening Description
Discover How To Make Your Organic Garden Thrive With The Insects & Organic Gardening App.

A culmination of over 15 years experience as primary producers and consultants in the organic gardening industry, the Insects & Organic Gardening App features a large database of pests and beneficial species along with clear information on how to deter or attract different insects.

Get access to valuable tips and information on soil composition, companion planting and chemical free sustainable growing practices that will help whether you're managing an organic farm or just want the best tasting, home grown veggies.

The Snap & Compare feature makes identification easy by allowing you to take your own photos in the garden or load an image from your gallery and then compare it your own image against hundreds of unique images featured within the image gallery to instantly see if you have a pest or beneficial species.

Categories include:

- Soils
- Plants
- Insects
- Planting Guide
- Pest Control
- Crop Damage
- Beneficial Species
- Beatles
- True Bugs
- Flies
- Lacewings
- Lady Beatles
- Look-alikes
- Nymphs
- Eggs
- Larvae
and more....

With the Insects & Organic Gardening App you'll get access to the most comprehensive app on the market produced by industry experts who have worked hands-on, in the farm managing sustainable organic gardens for over 15 years.
Insects & Organic Gardening 1.4 Update
This version provides improved functionality of app features.
Content is continually published and immediately available to users; you'll receive new information and images, as well as other additions and improvements, without the need to update your version of the app.
More