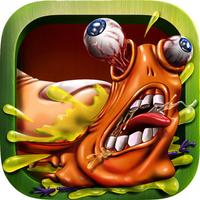 Insects & Roaches Bug Splatter house is infested !
$1.99
Screenshots for iPhone
More Screenshots for iPad
Insects & Roaches Bug Splatter house is infested ! Description
Discover the world of insects with this amazing kids game !
A wonderful game for kids and toddlers with a stunning collection of insects !
Does your kid love insects games and want to play with bad bugs ? Does he love crush flies and ants ?
This is the app for you!

Insects & Roaches Bug Splatter is an entertaining game.
It is a nice, simple, fun, and colorful game for girls, kids and adults too!

Easy to learn and to control:
choose your game mode, classic arcade mode or endless mode
Smash bugs with your finger as fast as possible
Swat the flies and crush all the nasty insects
But don't touch scorpions and spiders !!
help to get rid of this killer bug invasion
crush them before they reach the cake !
Get rid of house fly and cockroach infestation, the house is infested, hurry up !

Available for all screen resolutions and devices ( ipad / ipod / iphone )!
Simple and intuitive, your little girl and boy will have lots of fun for hours with this beautiful game !

This educational game will help your toddler to improve skills in problem solving,
logical and cognitive skills, concentration and memory.

Features:
- high quality game for toddlers , preschool kids and adults
- Easy to use and control
- fun for children of all ages, babies, preschoolers, school children and pre-teens, designed for preschool boys and girls
- Toddlers develop their fine motor skills by smashing insects
- Play with your child or let them play alone
- use it to keep your baby or toddler occupied
- lots of insects in this endless splatter game
- insects game for kids with worms and ants
- smash all beetles before they reach the cakes
- cool and funny game ! cockroaches and moths are waiting in the house
- flies and beetles are so clever
- bees and wasps are very hard to kill
- watch out for scorpions and poisonous spiders !
- Does not require internet connection!
- Does not contain Advertising!

Fun and enjoyable to learn and to play, this is a must have app!
A lot of educational insect games for toddlers and young kids!!
Your child will admire every kind of insects ready to be smashed !
Try to crush all the bugs and flies without pest control !

Insects & Roaches Splatter is a great game for kids and girls.
Ideal for children but also fun for adults who want to play with their kids!
What are you waiting for ? Start playing and be the best exterminator in the world !
This app is a funny game which also helps your toddler improving his abilities.
Insects & Roaches Bug Splatter house is infested ! 1.0.1 Update