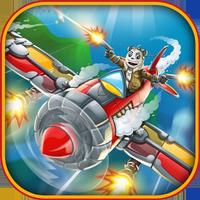 Iron Paw: Air Combat
Not Available
Removed
from the App Store
Screenshots for iPhone
More Screenshots for iPad
Iron Paw: Air Combat Description
The coolest, most intense free "airplane shooting game" is here to give you a realistic air battle experience! Download this popular easy gun shooting game Iron Paw: Air Fighter and enter the intense and exciting world of army games, shooting games, airplane battle games and become the most epic boss fighter with this best airplane flying game!
Flying airplane games are unbelievably fun, but our amazing helicopter shooting game will take you to a new level of first person shooter experience and this extreme plane driving simulator will make you feel like a real army helicopter pilot! Immerse yourself in this intense airplane war with this jet plane fighting and shooting game for kids against the wicked goblin invaders and beat the boss in air combat to be the winner of the ultimate airplane dogfight! Defeat the boss monster in his modern aircraft to prove you are the true super hero air fighter! Enjoy the most extreme plane driving simulator and become a pro air fighter & battle commander in our airplane army shooting game!
Iron Paw: Air Fighter is the most intense shoot 'em up real fighter jet plane simulator! Check out the incredible "plane driving game" and dogfight gunship game options:

FEATURES:
- Fast-paced gameplay with intense levels!
- Extreme endless boss battles!
- Beautiful level design and immersive environments!
- Colorful HD graphics and vivid characters!
- Upgrade shields, guns, missiles and bombs on your jet fighter!
- Buy power-ups to cause more damage to enemy warplanes in aircraft battle!
- Start the air strike to save Mooshmooland from evil goblin invaders!
- Follow the instructions Rikuto-sensei gives you to win the air war!
- Boost your metal storm jet fighter to be the best plane shooter!
- Intuitive controls for both beginner "shoot 'em up" players and hardcore gamers!

Start the infinite air defense flight, be the best plane shooter, enter the endless airplane dogfight and shoot 'em up in the modern air combat shooting game! If you're into jet battle games, helicopter shooting action games and air plane war games, Air Fighter: Airplane Shooting will become your favorite shmup airplane fighter!
"Best shooting games 2016" rated e for everyone are the greatest way to indulge in modern air combat with a mighty panda boss fighter and "fly a plane" like a pro war pilot & helicopter shooter with best airplane games in the world! If you're bored with all the free shooting games with military helicopter action in WWII air combat, you'll be thrilled when you engage in an epic jet battle with our fantastic and thrilling airplane battle shooting game – you'll enjoy this dogfight airplane game immensely!
Iron Paw : Air Fighter is one of the best flying and shooting games, so if you're looking for an ultimate airplane flight simulator experience with loads of top down bombing and shooting action, this cool gunship battle jet fighting game is all you need!
If you love to play war games, cool shooting games and fly around in a jet, this awesome 3D war plane flight simulator will become your favorite air combat game!
Who doesn't love to play extreme and intense airplane flying and shooting games? No matter whether you're looking for some fun free games for boys and girls, kids and adults, or even seniors who love playing retro arcade shooting and flying planes games, this air attack battle "flight simulator" game will completely blow your mind! You'll have a blast being a brave airforce fighter and war plane pilot, shooting and dodging missiles, bombs, laser beans and enemy airships! So, what are you waiting for? Download the epic plane battle simulator game Air Fighter: Airplane Shooting and embark on an intense warfare "plane shooting" mission to save the world in this jet plane fighting game!