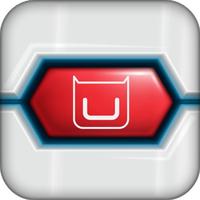 iStrike Controller
Free Get
Screenshots for iPhone
More Screenshots for iPad
iStrike Controller Description
"NOTE: To be able to use this app, you need a Dream Cheeky iStrike Shuttle. To find out where you can purchase an iStrike Shuttle, go to www.dreamcheeky.com.

Download the Dream Cheeky iStrike Controller app to wirelessly control the iStrike Shuttle; the first ever flying addition to the Dream Cheeky arsenal.

The iStrike Controller app can be used after your iStrike Shuttle is paired to an iPod touch, iPhone, or iPad, via BluetoothÆ.

Use the iStrike Controller in one of four Joystick Modes or in G-Sensor Mode.

In Joystick Mode:
- Use your fingers to slide the Throttle controls up or down, which will make the iStrike Shuttle move up or down in the air.
- Slide the Rudder controls left or right to make the iStrike Shuttle rotate clockwise or counterclockwise.
- Sliding the Elevator controls up or down to make the iStrike Shuttle move forward or backward.

In G-Sensor Mode:
- Use your finger to control the Throttle.
- Tilt your iPod touch, iPhone, or iPad forward or backward, to the left, or to the right, to control the Rudder and Elevator.

In both modes you can:
- Touch the fire button to drop an iStrike Bomb (aka ping pong ball) on your target; the coolest button on the app!
- Modify the Trimmer to adjust your iStrike Shuttle if it turns to the left or right when you want it to go straight.

Take office warfare into the air with the iStrike Shuttle and the iStrike Controller app!
iStrike Controller 1.1 Update
Bug fixes.
Tutorial added.
New iPad interface.
More