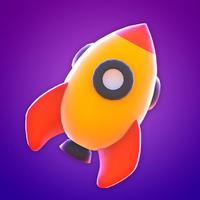 It's Rocket Time!
Not Available
Removed
from the App Store
It's Rocket Time! Description
You control time! No, seriously!! You control how time flows. You move, time moves. You stand still and so does time. Egghead scientists have made a super-duper device out of your rocket and it can control time. This should help you survive among thousands of aliens who don't like your rocket. They might just be jealous :)

*Simple and user-friendly gameplay
There's you.
There are spheres you need to collect to activate shields and earn points.
There are aliens.
They have blasters and homing missiles.
SURVIVE!

*Easy control
The rocket goes where you move your finger.

*Stylish minimalistic visuals
We have spent a BAZILLION hours to get rid of excessive stuff and preserved concentrated visual EUPHORIA only))

*Competitive spirit
You always know how much you are better than other players and how many points you need to earn to get higher.

***Hurry up to the exciting puzzle-platformer about time and space!
It's Rocket Time! 1.1.0 Update