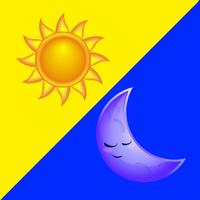 iWakeEarly Toddler Sleep Training Nighlight Alarm Clock
Not Available
Removed
from the App Store
iWakeEarly Toddler Sleep Training Nighlight Alarm Clock Description
This app could be the answer to your toddler's early morning wake-ups! Help your child to tell the time before they can understand a normal clock.

Overnight, the sleepy moon will let them know it's time to sleep. When wake up time arrives (configured by you), the sun appears and lets your toddler know it's ok to get out of bed and/or start making noise!

It may take some time to train your child, but keep at it. If your little one comes to you before the sun appears, gently explain what the two different images mean. If you keep at it, and make it fun, your toddler will be sleeping later in no time.

Don't bother buying one of those 'official' (expensive) toddler alarm clocks when this app does exactly the same thing. This app is the perfect use for that old iPod or iPhone you have lying around. The app will be running all night, so we recommend that hook it up to a charger or dock station. Turn off the wifi and cellular connection if you're concerned about wireless signal, the app doesn't need any internet connection.
iWakeEarly Toddler Sleep Training Nighlight Alarm Clock 1.0 Update