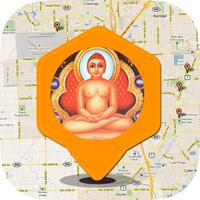 Jain Darshan - jaindarshan.info
Not Available
Removed
from the App Store
Jain Darshan - jaindarshan.info Description
If you outside of your city find nearest jain temple this app is for you. Jain Darshan provides the list of nearest temples from your current location.

Currently usage of application is find the temple in the radius of the range & provides the full information about the temples Like, name, saints,history, contacts information & extra details bhojanshala, dharamshala is available or not. Temple image gallery where user can upload the new image in gallery. User can find the direction from current location to Jain Temple.

Usage :

On start the application tries to determine your current location using either gps or network (wifi + 3g). Once your location is determined a default search will be performed which will return the nearest Jain Temples to your location and locate on map. By clicking on top left of the phone screen the slide menu will be appear with slide menu :

Jain Darshan has following options :
1) Locate
2) Search
3) 24 Tirthankars
4) My Temples
5) Favourites
6) Route To
7) Settings

Using the menu button user can find the more details of the selected temple. Temple has the following information :
- Contact Information :
Provides the contact information like, Address, Contact No, Web URL etc.
- Other Information :
Provides the other information like, Nearest Bus stop, Airport, Temple provides Bhojanshala & Dharamshala or not.
- Gallery :
User can see pictures of temple as well as you can also add picture in the temple gallery.
- Near By :
User can find more temple in radius of 50 km selected temple in list formate.
- Drive To :
User can find the drive to route from current location to selected temple.


Most useful feature of the app is "My Temples". Here user can add new temple by clicking on add icon which is locate on the right side of the header. User can add new temple information step by step. User saved temple information locally in phone if Internet connection is not available.

Another userful feature of the Jain Darshan is "Favourite". User can make temple favourite by clicking on favoutire icon in temple detail. User can also get his/her favourite temple information if internet connection is not available.

User can find "Route" of two different temple by typing temples name.

User can set the default radius for application in "Settings". Application offers 10, 25, 50, 100 Km range.
Jain Darshan - jaindarshan.info 4.0 Update
- Temple Filter based on City/State
More