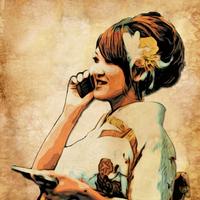 Japanese Culture Cards
Free Get
Japanese Culture Cards Description
Welcome to a whole New World! The Japanese Culture Cards, or 「日本文化カード」are both an oracle and a means to discover the Japanese culture. This deck can be used for just learning new aspects of the Japanese Culture and test yourself on how much you know about it, or you can use it as a totally new Oracle deck. Using Japanese Culture aspects you can now discover what's up around you.

I first envisioned this deck while living in Tokyo. However, I finally finished its completion while in Barcelona. The contents of this deck is the result of more than 10 years of study and living in Tokyo. You can find in them, not only aspects of the Japanese Culture from the point of view of foreign eyes, but also all my experience while living in the country. One of the most difficult parts was to choose which aspects I would include in the deck, and which aspects I would not include in the deck. After that came the mammoth work of choosing the images that would fit the idea represented in each of the cards.

All images have been taken while in Japan, either by me or by Pietro Zuco. Hidden within them are also part of our story living in Tokyo and travelling through Japan. These are memories, good moments, culture shock moments, sad moments, strange moments. What you will hold in your hands is the result of a great journey that we are so happy to share with you.

* card images about Japan
* intuitive interface easy for both beginners and pros
* easy explanations of the cards
* different types of layouts
* shake option for reading the cards
* animation option for reading the cards
* share the readings with your friends in Twitter and Facebook or save them in your iPhone.
* gorgeous Journal in which you can keep track of your readings, ideas and tales. (InApp purchase Option).
Japanese Culture Cards 1.0 Update