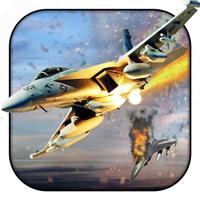 Jet Fighter Attack 3d - Enjoy real f16 at supersonic speed
Free Get
Screenshots for iPhone
More Screenshots for iPad
Jet Fighter Attack 3d - Enjoy real f16 at supersonic speed Description
Ahoy there, young pilot. Today's your first session in F16 Fighter Jet Flight Simulator recruitment program. In this session of flight simulation, your mission parameter is to maneuver F16 expertly in this free-roaming mode. Maneuvering your mint conditioned F-16 is no easy feat. F16 Fighter Jet offers thrill extraordinaire.


Flying a premier military fighter jet takes skill, grit, confidence and true showmanship. Fly this military jet with professional care and expert handling. In this 3D flight simulator extraordinaire, your first mission is to take-off with practiced ease, as the fighter jet slowly becomes airborne. Your assigned task is to pass though maximum rings as the fighter plane tears through at high-speed requiring seasoned training and skills. Save the fighter from its eventual crash as the rings, test your piloting skills to the limit and conquer the skies.

F16 Fighter Jet Simulator is free to play. Download Now!

Features
• Immersive graphics and addictive game-play
• Flight simulator even works in offline
• Free-roaming in a beautified 3D desert environment
• Challenge F-16 fighter maneuverability in tough terrain
• Realistic gun fire and crash sounds

Swift Maneuverability
In this free-roaming mode, fly the fighter jet skillfully without leading to an eventual crash.

Visually Striking Graphics
Explore the desert terrain while passing through assigned rings in a 3D environment.
Jet Fighter Attack 3d - Enjoy real f16 at supersonic speed 2.0 Update