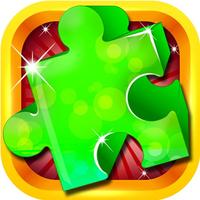 Jigsaw World Slide Puzzle Game
Free Get
Screenshots for iPhone
More Screenshots for iPad
Jigsaw World Slide Puzzle Game Description
Hello kids welcome to Scrambled Eggs puzzle maker. Scrambled Eggs brings you one of the most popular jigsaw puzzles game for free. Jigsaw World Slide Puzzle Game is an illustrative puzzle game that require to arrange interlocking real jigsaw pieces in beautiful way, secret of this picture puzzle is its challenges. Task is to try to match similar picture pieces and improve your child visual memory. Let's have fun by completing the pictures using this simple educational puzzle game. Twinkle Tales team added a large number of amazing puzzles for kids in different categories like Zoo animals, Beautiful birds, Sea life interesting fishes etc.
Jigsaw World Slide Puzzle Game is simple and fun to play. So kids get ready it is time to play with jigsaw box picture puzzles. You just have to drag the puzzle at the right place, to facilitate your kid, game is designed in such a way that silhouette of the puzzle appears on the position where child have to place puzzle piece. Animal Jigsaw Puzzle game is to improve visual memory and search skills, game is effective in releasing stress and relax brain muscles.¬
Features
• Tons of unique jigsaw puzzles.
• Beautiful HD jigsaw collection Graphics.
• Easy, simple and understanding user interface.
• Soothing Sounds.
• Amazing animations.
• Three difficulty settings 2x3, 4x3 and 4x3.
• Release Stress, relax brain.
• No WIFI required.
• Total free Jigsaw Puzzles.
• Educational game use for learning and memorizing purposes.
• Complete challenges.
Game is designed for the educational purpose, memorize the birds and fishes names, and so learn by matching pieces. Large range of birds and fish are added and game is enriched with sounds and animations. To make game more interesting play easy, medium and hard modes, you can have fun with each picture puzzle in 2x3, 4x3 and 4x3. So initially play in the easy mode and start moving towards the upper levels.
So kids download Jigsaw World Slide Puzzle Game Kids Games and start having fun by playing with puzzles and test your matching skills.
Jigsaw World Slide Puzzle Game 1.0 Update