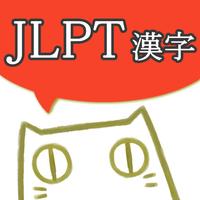 JLPT Kanji Reading - Practice and Quiz
Free Get
JLPT Kanji Reading - Practice and Quiz Description
The application " JLPT Kanji Reading" enables you to practice reading Kanji in the level of JLPT from N5 to N1.

◎Basic process, how to read the target language!
When it comes to learning Japanese, it is much more essential for you to practice how to read Hiraganas than to know the meaning of them.
It is because how to read is closely related not only to speaking but also listening.
Japanese Kanji reading has so low word regularities that this trait requires you to expose to it as much as you can.
Otherwise, it is unlikely to remain in your head. So repeat it intensively, imprint it, then recall it after a certain time of period.
The application "JLPT Kanji Reading" is focused on the ground that Japanese has these following language traits.


◎Brand-new memorization apps released
-You have to take the course at least one time, then test it in triplicate.
-If not pass it, then you are back to the sequence one.
-This procedure makes you repeat the words until you pass it.
-With no excess burden, put yourself in the stream of the procedure then it allows you to learn the words by heart.


◎Introduction of each phase

○事前テスト(pre-test phases)
-Check what you know or what you do not know

○STUDY (study phases)
-Study is in the type of a quiz.
-Whenever you get the correct answer, you obtain a petal. Otherwise you lose it.
-If you have four petals, you will go to next phase.

○貯めてテスト(Test yourself once again)
-Test what you have memorized are real yours!
-If pass it, go to the next.
-If not, back to where you have been.

○再テスト(Reconfirm them.)
-You can have a confirmation check for previous test.
-Passing it, you are supposed to have final test in 3 days from now
-Not passing it, you must go back to the study phase.

○最終テスト(Final Test)
-After confirmation check test, you are to take the final test in 3 days from it.
-Completed, you are successfully going forward where your goal is step by step.
-If not, go back to the study phase.

○暗記済み(At the end of memorization)
-You are not sure if you really complete the course.
-At the moment, you can involve yourself in this phase.
-If you fail, go back to the study phase.


◎Highly recommended for following type of learners
-You are a perfectionist, therefore, you think back and are not sure to move forward.
Solution-> We have 'going back to the previous ' chance. Don't worry!

-You do not want to review all through the phases you have already known.
Solution-> Review time does not consist of he words you have know by heart.

-You have a hard time memorizing all the words due to your poor concentration.
Solution->Practice makes perfect. Repeated practice makes you perfect.


◎Matters that require attention
-The app is mainly designed for how to read higagana. It does not contain the meaning of each word.
-For meanings of each word, you are available to easily reach either Jap-Eng dictionary or Japanese dictionary in iOS.
-As for the words at the level 1 in JLPT, you need to pay for it.
-If you are going to get the free version, advertisements will be on.
JLPT Kanji Reading - Practice and Quiz 1.0 Update
More Information
Language:

English

Japanese

Korean

More