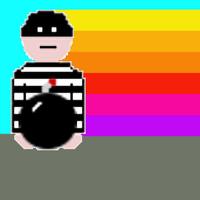 Kablam
Not Available
Removed
from the App Store
Kablam Description
In the 1980s a Mad Bomber tormented players on home consoles everywhere, with a never ending supply of bombs at his disposal, he challenged the eye hand coordination of a generation... For that was the only thing between them and certain destruction. No mercy, no pause buttons, no autosaves, just stay alive as long as you can.

This incredibly simple, yet insanely addictive and difficult game designed by Larry Kaplan became a classic.

For 3 decades the Mad Bomber has not been heard from, many thought he was gone, rumored to be a victim of one of his own bombs, but rumors of his death, were greatly exaggerated.

He is back and he's been busy, with a whole new arsenal of weapons and tricks, and just like 30 years ago, only lighting fast eye hand coordination will save you from complete destruction.

While keeping true to the simple game play, Kablam proves Mad Bomber is back and he's back and more sadistic than ever. Classic eye hand coordination retro gaming!

The first 8 levels are a direct reflection of the original game, survive those, and you will see what The Mad Bomber has really been up to! But don't think its easy, just getting past those first 8 levels will test every ounce of your skill. Things just get crazier from there!

How many levels can you survive???

The Mad Bomber is back!

This game has no association with the original, with Larry Kaplan or Activision the original games publisher.