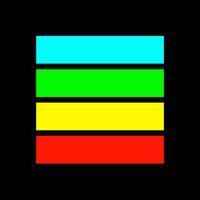 Kalision
Not Available
Removed
from the App Store
Screenshots for iPhone
More Screenshots for iPad
Kalision Description
Kalision is the best puzzle game for iOS. I know that's a bold claim, but I don't have to back it up and you're just looking at the screenshots right now anyway so it doesn't really matter what I write here.

Drag petals around the board so that all the colors match up. Some petals are pinned down and can't be dragged. Those are pretty much the only rules. Here's the obligatory bullet list of features:

• Infinite randomly generated boards
• Multitouch dragging
• Four difficulty levels
• iPhone and iPad compatible
• Fun times
• Seriously, there aren't a lot of features, just try it out.
• I mean, it's pretty cheap.
• You're probably spending more on electricity sitting here thinking about it.
• What are you going to regret more tomorrow, buying a fun new game or letting your fear of the unknown prevent you from experiencing pure puzzle-based joy?
• You probably burn, like, one extra calorie per hour while you're playing this game.
• Do the right thing. I have a family to feed.

"The best puzzle game since Tetris!"
- Ian Henry, Kalision developer
Kalision 2.0 Update
March, 2016.
Archaeologists discover a dusty tome, handwritten in an ancient script.
They spend years deciphering the language, only to find a curious title: "Kalision source code."
The best minds of our generation set to work translating it, modernizing it, and, finally, releasing an update to it. Which brings us to the obligatory bulleted list:
• Support for iOS 7
• No more "Reset Stats" button, because no one has ever pressed that ever.
• Support for iOS 8
• Less horrible home screen icon.
• Support for iOS 9
• It's been a while I'm sorry
• Native support for all the weird screen sizes that have come out in the last four years.
• Much better performance, though hopefully you'll only notice this on very old devices.
• Some other things are slightly different in ways you will never notice.
More