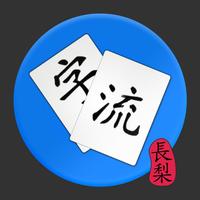 kanji Flow
Free Get
Screenshots for iPhone
More Screenshots for iPad
kanji Flow Description
kanji Flow is an SRS flashcard app for intermediate to advanced students of Japanese that helps you to remember kanji and vocabulary and saves you time by allowing you to:
- Create new cards almost instantaneously by importing entries and study list from the imiwa? Japanese dictionary
- Share your creations online and download pre-made lessons crafted by other users
- Study efficiently via a memory-algorithm that maximizes the effectiveness of your study time
- Remember quickly using mnemonic stories and a vast example database that allows you practice reading your kanji and words in a realistic, contextual manner

How to Study:
- Tap Study and choose Flow
- Tap the screen to reveal the entries for the current card
- Swipe right for known if you remembered the kanji or word
- Swipe left if you don't know it
- Swipe up to pass
- Swipe down to go back (or use the button in the lower right)
- Keep going until you've finished all the cards
Please check the support site for detailed information about how to get the most out of kanji Flow.

- Create
kanji Flow allows you to import kanji and words directly from imiwa? so you don't have to spend a lot of time making new cards. You can search directly for mnemonic stories when studying kanji and you can import example sentences for words and example words for kanji so you can memorize new kanji quickly and study your words using appropriate context.

- Share
kanji flow features CloudKit integration so you can share your cards with the world and download lessons created by other users to start studying immediately.

- Study
kanji Flow features two study systems:
- An SRS, memory algorithm (based on the SM2 algorithm) study system that makes more efficient use of study time for users that have a large number of cards to study and/or a limited amount of time available. kanji Flow will determine when you should study each card for optimal memorization; ensuring that you only study the kanji that are most difficult for you to recall without wasting time reviewing kanji that you already know well. Don't worry about falling behind if you forget to study for a couple of days; you can re-synchronize the study due dates for every card with a single tap.
- A Leitner style, stack-based study system for users that prefer the simplicity of that method. Five selectable stacks are available for dividing your cards by difficulty. Please do a web search for "Leitner system" for more information.

- Remember
A huge examples database featuring 12,000 of the most common words for over 2800 kanji characters from the JMDict and example sentences for almost 100,000 words from Tatoeba.org. You can also add an unlimited number of your own examples to each card. Help yourself memorize new kanji with creative, mnemonic stories from kanji.koohii.com. Add the most commonly used words or words with different readings. Use example sentences to show what kinds of situations certain words are normally used. There is a direct link to search for mnemonic stories on the Kanji Koohii website which can then be copied and imported. Example words and sentences will be displayed automatically with no extra effort on your part.

- Speech
With speech synthesis powered by iSpeech® you can practice listening to and repeating your words and example sentences with a natural, human quality text to speech reader. Besides Japanese, numerous languages are available for reading translations (this feature requires a network connection).

kanji Flow uses data from the JMDict managed by the Electronic Dictionary Research and Development Group based on Jim Breen's EDICT project and example sentences from Tatoeba.org based on Professor Yasuhito Tanaka's Tanaka Corpus project.

Please visit the website for more details and tips or feel free to contact me with any questions.

Happy studies!
kanji Flow 2.3.3 Update
- Fixed kanji Flow and CSV exporting to mail
- Fixed kanji Flow and CSV importing
- Updated duplicate checking to check for a hash of the original kanji when importing from imiwa?
- Various other bug fixes and performance enhancements
More