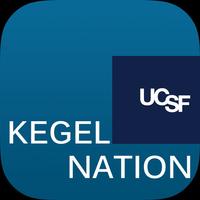 Kegel Nation
Free Get
Kegel Nation Description
This App was designed by urology faculty from the Department of Urology at the University of California San Francisco (UCSF).
This App is designed for both women and men.
The main (and unique!) feature of this App is it's biofeedback feature, which allows users to measure the most important element of a Kegel exercise: how they spend contracting and relaxing their pelvic muscles during each exercise.

Kegel Nation also lets users track how often they do their Kegels, and, other important elements of their urinary function: how often they feel urinary urgency, the number of trips to the bathroom, the number of incontinence (urinary leakage) events, and, number of urinary pads used. During treatment, it essential to accurately track these urinary function events, as this helps us (physician and patient) to determine whether there is progress over time and/or a satisfactory response to treatment with recommended changes in habits or with medications.

Kegel Nation also allows users to graph all of their own Kegel exercise and urinary function data, to make it easier to see trends to either share with their doctor or for their own health charting.
Kegel Nation 1.0 Update
This update is signed with Apple's latest signing certificate. No new features are included.
More