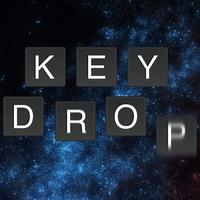 Key Drop
Free Get
Key Drop Description
Tap the falling letters to shoot them out of the sky. Sounds easy? Get to level 10, then decide. Letters drop faster as you go up in level and let's see if you can shoot down 5 or 6 letters at a time. If a letter reaches the bottom, BOOM! You're out. ...thinking of just randomly tapping letters, you're only allowed a certain number of mistakes, so make sure you're tapping the right letter each time.

If you've mastered the lower levels, see if you can start from level 4, 7 or even 10...you'll get more points that way.

Currently supports English keyboard layout.
Key Drop 1.1.0 Update
Thank you to all who have downloaded and given this game such high ratings! I bet you'll love this new version!
What's New In Version 1.1
- New Game Mechanics: Faster, more fun, and more challenging! Don't let any letters fall or it's game over.
- Arcade Mode: Want to play with the old rules (3 lives, 5 ammo)? Select Arcade Mode from settings.
- Annoyed with Ads? Have them removed for a small fee.
- Audio Settings: Turn sound effects off or on.
- Starting Level: Level 1 too slow for you? You can now start at level 4, 7 or 10...also known as Intermediate, Expert, and Insane!
- Rate and Review: We'd like to hear from you. A link will appear from time to time on the main screen so you can provide feedback!
- Bug Fixes: We found some ants, roaches, and moths. Don't worry, we killed them all!
For a full description of the new game mechanics, visit our website at http://www.keydropgame.com.
More