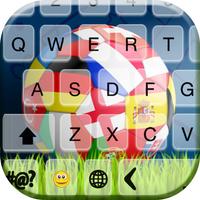 Keyboard Theme for Euro Cup 2016 - Football Keyboards with cool Fonts
Not Available
Removed
from the App Store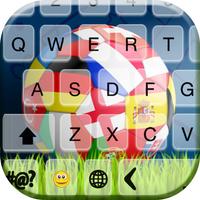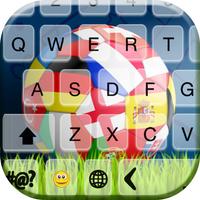 Keyboard Theme for Euro Cup 2016 - Football Keyboards with cool Fonts
Free
Keyboard Theme for Euro Cup 2016 - Football Keyboards with cool Fonts Description
Get ready for the European football championship 2016 in France! Download Euro Cup Keyboard Theme – Football Keyboards with Cool New Emoji, Backgrounds and Fonts and enjoy texting on a special personalized keyboard for free. Bring texting and chatting to the next level and enjoy typing on the keyboard that makes your typing faster and more accurate!


Euro Cup Keyboard Theme app features:

▶ Best euro cup free keyboard for massaging!
▶ NO ADDITIONAL SOFTWARE NEEDED for using this free app!
▶ Best typing experience for your iPhone and iPad!
▶ euro cup keypad makes your typing faster and more accurate!
▶ Fantastic fancy keyboard design that glows in the dark!
▶ Different cool texture keyboard skins on your disposal!
▶ Easy-to-type colorful keyboard free for your love messages!
▶ Enjoy the most beautiful and colorful keyboard themes!


How to use "Euro Cup Keyboard Theme" app:

▶ Select a language and get a English keyboard, German, Italian, Spanish, Russian, Portuguese or Turkish keyboard. Type love messages in the most romantic language in the world by choosing a French keyboard pro!

▶ Make awesome shortcuts! Select words for numbers – Choose a word for each number, then, put the word in a message with a long click on the number.

▶ Now you can customize your fancy keyboard software – select a euro cup background theme you like and be sure that your iPhone will look so cute.

▶ Choose your favorite key style – pick up the shape of the key you like the most to make a unique keyboard in a second!

▶ Check the key color that go perfectly with your new euro cup keyboard background!

▶ Try out fantastic fonts that will make your chatting and texting super cool!

▶ Choose some of the feedback options: feel the power of every letter by adding a keyboard sound for texting to enjoy more!

▶ Get emoji that will make your texting fantastic. Use emoticons to show your feelings and make texting more interesting!

Attractive skin designs that will make texting more smooth and pleasant. This cool keypad has some features that other simple qwerty keyboards don't have, so, don't hesitate to try it out. Choose one of the Euro Cup Keyboard Theme from this best keyboards 2016 and enjoy texting sms and chatting with the people you love more and more every day and watch European Championship 2016!