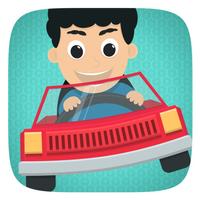 Kids and Toddlers Toy Car Driving Free Game with Car Wash and Mechanics
Free Get
Screenshots for iPhone
More Screenshots for iPad
Kids and Toddlers Toy Car Driving Free Game with Car Wash and Mechanics Description
Great car game for children 3 to 8 years old. Let your kid play in an interactive car simulator. Your child can drive a car with all the real controls and extras included.

This game lets children sit in the driver's seat and explore the grown up world.

Fun activities to discover all around the car - honk the horn, shift gears and many more fun to discover.

Kids Toy Car Driving Simulator Game is designed for preschool and kindergarden kids. There are no high scores, failures, limits or stress. Your kids can role-play using their own imaginations and learn at their own pace.

Why will your kid love this game:

- totally free exploration
- kid-friendly interface
- extremely intuitive to play!
- drive in a world of sights and sounds
- fully working dashboard and driving controls
- It is super fun!
- listen to songs on the radio while you drive

Kids Toy Car Driving Simulator Game modules:

Driving a car- offers your children the ability to explore the car from the driver's perspective. Children can freely interact with the equipment turn on the devices on the dashboard and many more.

Car mechanics - it's time to roll up your sleeves and play as a mechanic. Look under the hood and change automotive fluids. Find out how a car works. Great to practice full motor skills and color recognition.

Car wash - clean the car with brushes, soap, and bubbles. Taking care of your car is a very engaging activity. Children can make the car dirty all over again. Learn how to make your car clean and sparkling!

Our app was designed to develop your child's cognitive skills and learn about cause and effect. As a role- play app it helps children foster their imagination by engaging them in fun and realistic activities.

Kids Toy Car Driving Simulator Game was designed with preschoolers in mind.
Download it to enable your kid to develop role playing skills.
The non-linear game play allows choices within the game and gives children a chance to do as they please.

Galante Games is a team of designers and engineers dedicated to create best education and entertainment apps for kids. Thanks to our apps children are able to safely and creatively explore the world around them.

We support children's development as best as we can, so please, help us make this application better. If you have any suggestions, remarks or comments, let us know, send us an email!
Feel free to contact us!
https://www.facebook.com/GalanteGames
Privacy Policy:
http://galantegames.com/privacy-policy/
Kids and Toddlers Toy Car Driving Free Game with Car Wash and Mechanics 2.1 Update
Great driving simulator game for little car lovers. Interactive dashboard
Look under the hood, go to a car wash.
Find out what's inside and go for a ride.
Help your child learn how a car works and drives with this fun game.
Please rate us if you like the game. It means a lot to us.
Have fun - play and learn!
In this update:
Minor Bug Fixed
More