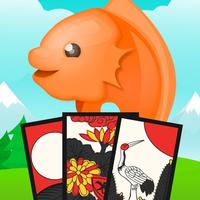 Kiki's Koi-Koi
$1.99
Screenshots for iPhone
More Screenshots for iPad
Kiki's Koi-Koi Description
Kiki's Koi-Koi offers a classic Japanese card game with bright graphics, an intuitive interface, and just the right balance of strategy and luck to pass the time away. Oh, and it stars a fish.

WHAT IS KOI-KOI?
Koi-Koi is a simple two-player card game played with the colorful Japanese cards known as Hanafuda. Match cards from your hand to those on the table to make sets or call "Koi-Koi" to press your luck for more points. But watch out! Your opponent may score bonus points from your risk-taking. How far are you willing to test the fates?

DESIGNED FOR ALL PLAYERS
Is this your first time playing Koi-Koi? Kiki's got you covered. She can walk you through a full hand of play and show you the ropes. Or if you'd prefer to dive in, skip the tutorial and start up a game against Kiki herself. She'll show you which cards you can match, getting you on your feet instantly.

Or perhaps you're a seasoned pro. Well, Kiki's been training for a long time, waiting for this day to arrive. She's ready to play and can't wait for you to step up to the table. Do you have what it takes to defeat the reigning Fish League champion? (That's what Kiki calls herself, by the way.)

STEP ASIDE, KIKI
If you've got a friend with you, the two of you can play against each other with just one device. Pass the game back and forth and see who's the real Koi-Koi Master.

WHAT PEOPLE ARE SAYING
- "This app helped me to master Hanafuda. You won't be disappointed."
- "This game is by far the best way of getting into and learning the game. I've learned more in 2 rounds on this game then I have in all the other things before this."
- "A more challenging alternative to simple, mindless card games like solitaire."
Kiki's Koi-Koi 2.1 Update
Hello, Kiki fans! We've got some updates for you:
- Background audio from other apps will no longer be interrupted by Kiki. If you're listening to some music or a podcast while you play, it will continue while Kiki's audio will be silenced.
- We've updated the layout/graphics for iPads and iPhone X. On iPad, the game elements are now more spread out and easily accessible at the edge of the screen. And on larger-screen iPhones, the game now takes advantage of the full display.
We're so happy to hear so many of you enjoy playing Kiki. We hope these updates make the experience better than ever! If you have any questions or comments, we're always listening at support@howseven.com. Happy playing!
More