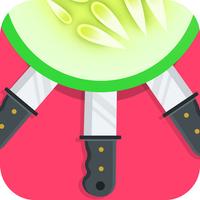 Knife vs Vege - Just Shoot it
Free Get
Knife vs Vege - Just Shoot it Description
Throw the Knives, collect coins, & clear the level. Remember, you have only limited number of knives to complete every level. The goal of this game is to hit all the rotating targets.
Be careful, if any of your knife overlaps, you fail the level!

You can try to hit the coins and earn them, you can get the knives from the shop.
Improve your skills and reaction by choosing the right time to shoot!


How to play?

-- Just tap the knife to throw them out.
-- If any of your knife overlaps, you fail the level!
-- Rotate clockwise or anticlockwise, and they change the speed every time.


Features : -

==> It is an easy one finger control.
==> Different levels to become a skilled knife master.
==> Collect various kinds of cool knives!
==> Various colors for backgrounds.
==> Eye-catching graphics and colorful designs.
==> Great audio.
==> Challenge your friends with maximum clear levels.
==> It's free to download NOW!


This game is seriously fun, super addictive, you will like it.

Thanks every game players! Any suggestion is welcome!
Have a good game!
Knife vs Vege - Just Shoot it 1.0 Update