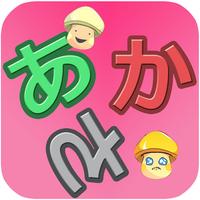 Kodomo no Hiragana
Free Get
Screenshots for iPhone
More Screenshots for iPad
Kodomo no Hiragana Description
両親は子供たちにアルファベットを訓むの方法を教えるのアプリが欲しいです。そのアプリも子供たちを欧字を覚えて、映像の能力を練習して、覚えを練習しているのを手伝う。すべては、アプリケーション「Kodomo no Hiragana」とは簡単になります。
アプリの主な機能:
+「欧字」:文字と方音を書き連ねる。
+「推測」:このゲームは子供たちが発音で文字を思い知るのを手伝う。
+「映像」:このゲームは子供たちの映像の能力を練習する。
このアプリは6歳未満の子供に合わせるためにアニメのスタイル通りに簡単を設計する。また、各ゲームで、子供たちは正しいに答えたら、可笑しい音が出される。子供たちにおめでとうましょう!

Parents need an application on mobiles or tablets to teach their children how to pronounce 104 Japanese letters. Or an app to help children remember the words, reflection exercise, memory training. Everything will be easy with the application "Kodomo no Hiragana".

The main functions of the application:
+ "Alphabet": Listing 104 letters with pronunciation and picture for each letter
+ "Guess": Game helps children recognize letters by pronunciation
+ "Reflection": Reflection exercise game for kids

The application is designed to be simple, cartoon style to match children under 6 years of age. Also, in each game, when he chooses the right answer, a funny sound will be emitted, you can rely on that for a little reward for your children.
Kodomo no Hiragana 1.3 Update
Fix broken app for modern devices
More