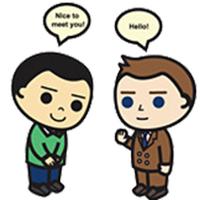 Korean Phrases
Not Available
Removed
from the App Store
Korean Phrases Description
Hear and Learn the 500+ Most Important Korean Phrases! The easiest way ever!Quick and useful!
This is the ultimate phrase dictionary for the Korean language. "Speak Korean" is an application that contains many of Korean words and phrases. This App teaches you all the Korean phrases that you will very likely need.

The goal of "Korean Phrases" is to provide correct, accurate and commonly spoken Korean phrases to everyone interested in learning and preserving the Korean language. This application is the perfect educational learning tool for anyone interested in learning the most valuable artifact to the people of speaking Korean.

Hear and Learn the basics part, how to say Hello to others and if you are good in the basics, learn a few more useful phrases will make you more welcome.

Features:
+ Clear audio recordings of native Korean speaker
+ Very easy to use!
+ no internet connection required! It's works offline!
+ Organized in 18
categories:"Greetings"
"General Conversation"
"Numbers"
"Time and Date"
"Directions & Places"
"Transportation"
"Accommodation"
"Eating Out"
"Shopping"
"Colours"
"Cities and Provinces"
"Countries"
"Tourist Attractions"
"Family"
"Dating"
"Emergency"
"Feeling Sick"
"Tongue Twisters"

.......
This application is designed to encourage people around the world are learning Korean, and to increase Cultural Understanding Between Countries.
Korean Phrases 0.0.1 Update