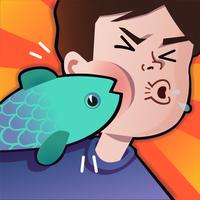 Lava Royale
Free Get
Lava Royale Description
Step into the arena for a wild multiplayer battle royale! Your weapons are your wits, your distaste for lava, and... fish?

Lava Royale is an intense and action-packed multiplayer game where your only goal is to stay alive. 8 players join in the fray, each fighting for supremacy as the lava floor slowly rises from the bottom of the screen, consuming everything in its path. Ouch.

Scamper up bookshelves, hop on top of lamps, and defend your desk platform from invaders. The only rule in this free-for-all is to stay alive. Do everything in your power to emerge victorious, including betraying friends, befriending enemies, and throwing household objects at other players to knock them into a fiery abyss.

Features:
- Face off in a survival matches against 8 players!
- Avoid the creeping lava by jumping and scrambling to the top of the arena.
- Pick up items and smack players with them, including vases and fish!
- Launch yourself from lamps, because why not?
- Be the last player standing to earn a victory!

If you've always suspected the floor of your living room is made of lava, this is the perfect chance to get in survival practice from the safety of your mobile device. It's also an opportunity to show off your skills at bookshelf climbing without breaking anything valuable.

In Lava Royale, it's you versus the world, plus you versus lava! Keep your wits about you and do whatever it takes to be the last player standing!