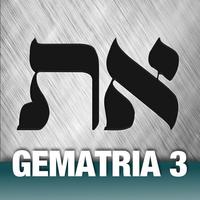 Learn Hebrew - Gematria 3
$0.99
Screenshots for iPhone
More Screenshots for iPad
Learn Hebrew - Gematria 3 Description
The original and most complete Hebrew Gematria learning resource available on the AppStore. Learn Hebrew Gematria through 5 distinct evolutionary periods of the Hebrew alphabet. We've even included a bonus variation of the earliest form of the ancient Semitic alphabet. This universal app provides flashcards that allow you to challenge yourself in recognizing the gematria value for the combination of random letters displayed on the flashcard. We've also included the ability to select levels of difficulty (from one letter to 10 letter combinations), as well as provided letter name "hints" to help assist in solving the gematria equation. This app utilizes the Mispar Gadol Method and provides a detailed number-letter reference chart and includes an informative "how to guide" for understanding the history and math involved in this particular gematria method. For other methods, check out the other apps in our Learn Hebrew series.
Learn Hebrew - Gematria 3 2.00 Update
ALL NEW in version 2.0:
- Completely overhauled appearance to reflect a more modern design with carbon and steel elements
- New, natively designed and optimized interface for each unique iPhone device including 4", 4.7", 5.5" displays.
- New, natively designed and optimized interface for each unique iPad device including the iPad Mini, iPad, and iPad Pro 10.5" and 12.9" models
- Completely optimized for iOS 11+
More