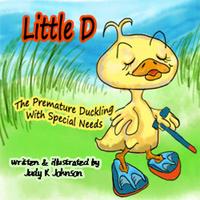 Little D, The Premature Duckling With Special Needs
Not Available
Removed
from the App Store
Screenshots for iPhone
More Screenshots for iPad
Little D, The Premature Duckling With Special Needs Description
This story is about Little D, the premature duckling with special needs. It is written for younger children to learn and enjoy. All the animal characters live together in the farm yard. Mother Duck is worried because Little D was born prematurely and has special needs. She must take special care of him in order for him to survive.
Mother Duck discovers that Little D is blind and has trouble walking well. She teaches Little D to move around the nest by quacking to him. Mr. Rooster helps out by making Little D a special cane and also special shoes to help him get around the farm yard.

With all this care, Little D is soon following his sibling ducklings to the pond where he finds out that floating is much easier than walking. When the other ducklings swim across the pond, Little D follows close behind.
Eventually, the ducklings discover that they are all lost. Mother Duck is also searching for them. How will they find their way home? Who will be the hero?

This story is a great way for young children to discover what is like to have special needs. They also discover that having friends with special needs can be very rewarding. It teaches empathy for all and that someone with special needs can actually be a hero.

You can read the story by yourself, or just touch the words on each page and the story will be read to you. Then touch the faces of Mother Duck or Little D to see more exciting animation. Touching the arrow keys will turn the pages forward or back. There are two counting pages where you can touch numbers to count the ducklings. At the end, you can also restart the story to read it all over again.

Little D is a fun way to learn about those with special needs. At the end of the story every one wants to be friends with Little D.

- Create your own interactive book app at www.talespring.com.
- Find other great books at books.talespring.com.
Little D, The Premature Duckling With Special Needs 1.10 Update
- Fixed viewport issue that caused app to display incorrectly in iOS 9.
- Replaced branding pages.
- Updated to comply with standards established in the Children's Online Privacy and Protection Act (COPPA).
More