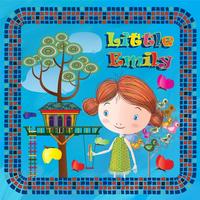 LITTLE EMILY
$2.99
Screenshots for iPhone
More Screenshots for iPad
LITTLE EMILY Description
EMILY AND THE CHERRY STALK
By Eugene Trivizas 

Voted best preschool e-book of the year by the prestigious Kidscreen Awards which single out and celebrate the year's best work in kids television and digital media.

Welcome to Spick-Span, a small but wondrous planet, which has just two inhabitants:  the landscape painter Alex and his little daughter Emily. Alex has painted the entire planet solely for Emily to enjoy.   
But someone is jealous of their lovely planet. Someone is bent on destroying it. And that someone is none other than the sly, envious Count Splodge who lives in the planet Stink-Stink with his nasty splodglings.

A delightful story about affection, caring and creativity by the much loved best selling storyteller Eugene Trivizas. He transports us to a colorful galaxy of blue, silver and purple water colors, sunflower jungles with ginger colored hippopotamuses and frozen peppermint ice cream lakes and shows us how dreams become reality.

An international production by "Ever After Tales". 
This new app offers the following features:
• A great new story by famous storyteller Eugene Trivizas,
available now for the first time ever in interactive app format!

• Breath-taking illustrations, graphics and animation by award winning
animation director and illustrator Panagiotis Rappas.
.
• Original music written just for "Emily and the Cherry Stalk".

• Little treasures of interactivity throughout the book to make
reading a more vivid experience.

• The option to listen to the narration through an actor's voice..

• Games that will enhance your child's abilities and imagination.

• Brought to you by Hal Waite, Executive Producer of "The Rugrats".