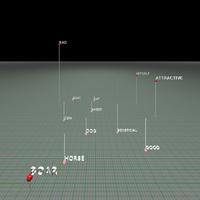 Little Galileo Viewer
$59.99
Screenshots for iPhone
More Screenshots for iPad
Little Galileo Viewer Description
This terrific app allows you to view Galileo Sociology Research data on the iPhone or iPad. This version points to data hosted by the Erie Community College in Buffalo, New York.

Galileo is a suite of software for Social Science research developed by a team led by Dr. Joseph Woelfel. Galileo software works with the numerical relationships between words and phrases relating to a particular subject to show a rich 3D space that expresses a population's attitudes towards that subject. The subject in the sample data for the app shows people's attitudes towards animals. The animals that are close together in the 3D map were reported to be close together numerically by the population. The animals that are far apart in the 3D map were reported to be far apart numerically. The author is one of the developers of several components of the original Galileo software as well as the architect and coder of the Galileo*TeleGal software framework still in production today that allows researchers to perform the full project lifecycle of Galileo social science research. The system has abilities to do free-form text analysis to extract relevant concepts as well as gathering numerical relationships between all of the concepts to create 'conceptual space' pictures.

Your professor will put the Galileo data on the web site and you will be able to view it in 3D with this App.

The datasets you will view are Galileo Coordinates in their original 80 character per record format. Please consult your professor if you are unable to view the data.

Thanks for your feedback!
Little Galileo Viewer 0.94 Update
supports iPhoneX and iOS11.3
More