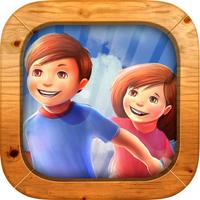 Lost Twins : A Surreal Puzzle Adventure
Free Get
Screenshots for iPhone
More Screenshots for iPad
Lost Twins : A Surreal Puzzle Adventure Description
The new update to the critically acclaimed Lost Twins brings loads of new elements to tinker with. Utilize them to unite Ben and Abi once and for all!

With a fan at your disposal, you can now breeze past those atrocious spikes and end up in previously unreachable places. Use the power of the fan wisely to solve puzzles in new and creative ways!

The new Portal element makes it easy to access areas interconnected through portals. Simply venture into one and re-appear at the other end of another one. It makes teleporting between places a lot easier and a whole lot of fun too. Try it now!

In addition to the heap of zones already added, here come some more! Introducing the bedroom, a fun new room to play in….and get lost!


A room full of puzzles or is it a puzzle full of rooms? Lost Twins is a charming, unique and utterly addictive puzzle game.

(Featured in) "BEST NEW GAMES" - Apple

"Abi and Ben's bedroom in Lost Twins is much more exciting than my one ever was as a kid." - Chris Priestman, PocketGamer

Poor little Ben and Abi! They are left adrift in an enchanted labyrinth of rooms- hopeless and lost. Is the mysterious red door the way back? Or will it lead them even deeper into this spellbinding world?

"It seems as though this game is a real crowd pleaser.....The graphics are very cute and professionally done. In fact users consistently comment on how "polished" the game is.....The Lost Twins app for your iPod touch, iPad, and iPhone is an addictive, challenging, and fun game that will have you testing your problem-solving skills."
- Editor, App Picker

Use your wits & reflexes to guide the young siblings by matching up rooms and directing them to the magical red door! Each exit conjures up an even more intricate puzzle full of rooms. It's a mind bending puzzle game that takes the sliding puzzle mechanics and blends them with platforming gameplay.

"While I wouldn't call it a particularly difficult game, Lost Twins has an undeniable charm that is utterly infectious to the point where I nearly sat through the whole game in one go. Go and grab it while it's still on offer."
- Lee Hamlet, 148apps

Assort rooms and reunite the siblings while collecting stars along the way. But beware, for obstacles are bound to flow your way. Swap, Shift and Shuffle your way to the end!

Try and unlock the super difficult "MYSTERY ROOM".

Collect the hidden jigsaw pieces in each level and complete the family photo to get clues on the Lost Twins back story.

44 levels and 4 different zones of Puzzle & Platforming.