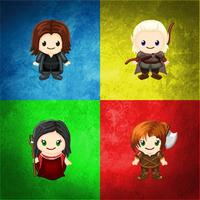 Lud O the Rings
$0.99
Screenshots for iPhone
More Screenshots for iPad
Lud O the Rings Description
Embark on the most exciting board game adventure you will ever experience. A perfect mix between fantasy and Ludo that will have you totally hooked with its stunning cute visuals, ease of use and replayability.

Choose from 5 playable races, with more coming in future updates, each with their own skills and personalities.

In Lud O the Rings, no one is safe, there is danger in every corner and you should learn to use your skills and abilities in order to stay alive and succeed. Play with all the classes and get to know their strengths and weaknesses and put them to use in battle.

Make your ordinary Ludo board game come alive with this strategical, engaging game inside a magical world with fantasy creatures.

Bring your friends over, order some yummy pizza and play the most enjoyable ludo board game you will ever experience on iOS.

Say hello to our heroes!

Human:
Play as the noble human race, always happy to serve you and most importantly, always ready to fight by your side and protect you.

Hobbit:
Hobbits are a cute race with hairy feet that enjoy music and fireworks but what they love doing the most is getting ready for new adventures.

Mage:
Mages are renown for defending their towers. Incinerate those who come close with meteors that will shake the very earth.

Elf:
Elves are an ancient race with the most terrifying archers. They have devoted many of their years in mastering the bow and arrow. Their precision is unmatched.

Dwarf:
The mightiest of all the heroes. This tough, proud race are small and stalky. Dwarves are feared by many, due to their strength in combat.

PLEASE NOTE:
This game offers in-app purchases but you can obtain items by playing and winning matches. In-app purchases are for people who just cannot wait and want items right away.
Parents please ensure that in-app purchases are disabled if you do not want your children accidentally purchasing. Thanks!

Features:
Male and female genders for all races and classes
Professional and polished hand drawn artwork
Complete achievements and earn awesome rewards to aid you in battle
Daily bonuses to reward all loyal players
Harness the power of the ring and slay your opponents
Global leaderboards
Adjust the robot difficulty settings to easy, medium or hard
Adjust music volume or turn it off
2-4 players simultaneously. Pass and Play
Mix and match humans, robots and classes to your very liking
Game comes in highly recommended to suit people of all ages

Any ideas that you think will fit nicely into this game! Why not drop us an email, we would love to hear from you. If I do use any of your ideas I will definitely get in contact with you so we can discuss.

Share all your ideas at info@toparcadeapps.com with subject LTR-ideas.
You can also contact us via our facebook and twitter pages.
https://www.facebook.com/TopArcade
https://twitter.com/toparcade

I thank you all for your support and hope you enjoy playing.
Lud O the Rings 1.1 Update
Special AI players were making the game to freeze on some devices. This is now fixed.
More