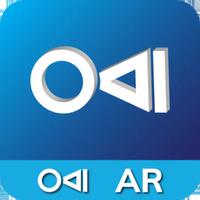 MagiWorld AR
Free Get
MagiWorld AR Description
Note: To use MagiWorld AR you need a MagiTile and MagiDice tracker. Get them here: https://www.indiegogo.com/projects/magimask-immersive-augmented-reality/x/17343783#/

Ever imagined how a DNA structure will look up-close? Or how would it feel to have a ferocious dragon breathing fire in the palm of your hand? Ever tried touching or caressing the mystical magical clouds or exploring the realms of our solar system? Or ever tried taking a closer look at the body language of your pet cat?

Here is your chance to experience all this and more! Use our MagiTools and MagiMask offerings to unleash the power of your smartphone and experience Augmented Reality like never before. MagiTools is a set of tools combining our custom-designed tracker controllers and supporting software. MagiMask is an immersive, high resolution, Augmented Reality headset for your smartphone. Navigate through different models and interact with the digital world in a whole new way.

3D models that you can explore within the application currently includes:
- Phone
- Tablet
- Laptop
- Clouds
- Dragon
- Cat
- DNA Structure
- Solar System

How to use the app?
1. Open the application and choose a model from the menu
2. Once the camera starts, point it to the MagiTile and see the chosen model appear on the tile
3. Use the yellow colored virtual buttons on the tile to navigate through the models. To press a virtual button cover it with your hand. To release the button uncover it by removing your hand. Long press the button by keeping it covered with your hand to auto-iterate through the models.
4. Take the MagiDice in your hand and see a magnet-holder appear on it
5. To pick-up a model and examine it up-close touch the model on the tile with the magnet-holder. This will snap the model onto the magnet-holder.
6. You can use the virtual buttons on the MagiTile to keep on navigating through the models as they remain snapped on the magnet-holder.
7. To put the model back on the MagiTile touch the center of the tile using magnet-holder. This will snap the model back to the MagiTile.
MagiWorld AR 2.0 Update
- Minor performance improvements
- New 3D model added
More