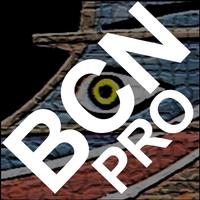 MagoGuide Barcelona Pro
Free Get
Screenshots for iPhone
More Screenshots for iPad
MagoGuide Barcelona Pro Description
Don't you wish you had a good friend who could make solid recommendations on where to go and what to do in Barcelona? Well, MagoGuide is here to help. Morgan's wickedly honest reviews are not only informative, but will have you laughing out loud.

MagoGuide Barcelona gives travelers like you information about Barcelona that is essential for planning a visit, while you're there, or just to get to know Barcelona a bit better. We let you take advantage of all of our experiences in Barcelona, both the good and the bad, to figure out where to go, what to do, and most importantly what to avoid.

MagoGuide Barcelona is super easy to use. We give you suggestion that you'll love minimum fuss.

- We start with our "Home" tab list that lets you jump right to the most interesting venues, like restaurants, markets, VFM, and so forth.
- Next, there's a list of places that you can sort and search. Each places has our own rostra rating and why we're recommending them (or not). With restaurants, for example, we tell you all about our favorite dishes, the best times to visit, whether they have a menu of the day… you get the idea.
- Want even more information? You also get quick links to all of our free blog posts that provide in-depth analysis of the Barcelona scene.
- Search you ask? But of course! So you can search for "tapas," for example, and get back all the great places that serve up those wonderful small dishes.
- You can "heart" favorites (how sweet) and share them with your friends.
- If you're lucky enough to be in Barcelona, you can use our interactive map to see what's nearby and get directions.
- And photos galore.

We're always anonymous, never paid by the places we review, brutally honest, and just a lot of fun to read. Give MagoGuide Barcelona a try for free. Really, you're going to love it. Trust us.
MagoGuide Barcelona Pro 2.1 Update
We've made big changes under the hood of MagoGuide Barcelona Pro. You no longer have to wait for updates to the app in order to get updates to the places. This is very good news. When we go to a new place, bam... you get the scoop right away. Every time we revisit a place and make an update with more photos and refreshed descriptions, swoosh... you get that update instantly. When a restaurant closes, boing... it disappears from the app so that you don't have to bother with it any more. Instantly. Just like magic. Although it may take longer to load the app the first time you open it, it should be even speedier after that. What else does this mean? That we won't be bothering you with app updates as often. No need. Don't wait. Get this greatly improved update right away.
More