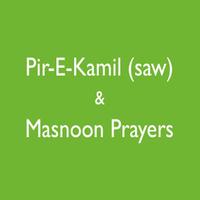 Masnoon Prayers and Pir-e-Kamil
Free Get
Masnoon Prayers and Pir-e-Kamil Description
Masnoon Prayers and Pir-e-Kamil app has multiple useful features. Detail is given below
• Masnoon Prayers and Pir-e-Kamil app offers your two in one feature to learn Mansoon
duain and as well as to read an Islamic spiritual novel Pir-e-Kamil.
• This app offers you a functionality to provide you translation of Arabic dua into English and Urdu at a time.
• This app offers you to make many daily routine life prayers like
• Dua Before Meal
• Dua After Fajr & Maghrib Prayer
• Dua for Bride & Groom After Marriage/Nikah
• Dua When Fearing The Enemy
• Dua Wearing A New Turban(Amaamah) or Shawl
• Dua When Drinking Zam Zam Water
• And many more prayers are included which make you feel happy and do your daily life activities with God Blessings.

• Peer E Kamil Novel is also included which is written by Pakistani writer Umera Ahmad. It was first published in 2004 in urdu and later in english in 2011.
• Jannat Ke Pattay is a story of Courage, Reality, Struggle and Faith which makes Novel Reader Thrilled, Fascinated and Awed.
• Read this novel you will not stop reading unless it is not completed.
• This app offers you user friendly interface.
• Easy to user features for navigation from one page to other pages.
• Bugs fixed app.
• Free App.
• No need internet connection.
• This app is best companion of your daily routine life.
• You will enjoy this app definitely.
Masnoon Prayers and Pir-e-Kamil 1.1 Update
Bug Fixes
Performance Improvements.
More