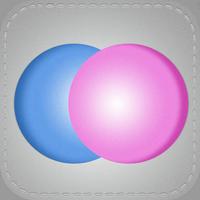 MatchApp - I can live with that
Free Get
MatchApp - I can live with that Description
MatchApp - I Can Live With That
MatchApps is a unique application that helps you find the right match in an easy, smart & interactive way. We're proud to present a whole new world of dating opportunities!
MatchApp will make your life easier - starting with a smart filtering search process producing results by success rate, continuing with an interactive matching game.
So how does MatchApp work?
Log in via facebook, choose 5 Statements that best describe you - what best identifies you. Every statement will help your partner to get to know you better and will determine your progress within the game.
If the game ends successfully - you and your partner can live with your statements - you move on to the final step, private chat with your match. 
Go ahead and find your match!
Perfection is what YOU want it to be.
Get real meaningful relationships with MatchApp - I Can Live With That :)

אפליקציה ייחודית ופתרון אידיאלי לחיפוש בן/בת זוג בהתאמה אישית!

לא עוד אפליקציות שידוכים בנאליות!

MatchApp היא אפליקציית הכרויות ייחודית הכוללת חיפוש רציני המיועד לצעירים, פנויים/פנויות, גרושים ולכל מי שמחפש בן/בת זוג.
מטרתה של האפליקציה היא להקל על כל מי שמחפש זוגיות ולעזור לו להתחיל את הדרך בעזרת חיפוש בעל אחוזי הצלחה גבוהים.
MatchAppמאפשרת לייצר סינון חכם המושפע מהגדרותיכם האישיות ומוצאת את התאמות הזוגיות המוצלחות ביותר בשבילכם!

אז איך MatchApp עובדת?

בחרו 5 הצהרות אישיות מתוך מאגר התחומים השונים של MatchApp אותן תרצו לשלוח לצד השני. כל הצהרה תעזור לכם להכיר את השותף שלכם טוב יותר ותקבע האם תרצו להתקדם הלאה או להמשיך לשותף הבא.
במידה וחמשת ההצהרות יתקבלו בהצלחה משני הצדדים תוכלו להמשיך את הדרך המשותפת בצ'אט אישי מתקדם.

אל תהססו! זה הזמן למצוא לעצמכם !Match
שחקו ותהנו.
MatchApp - I can live with that 1.7 Update
Improved UI on iPhone 6
More