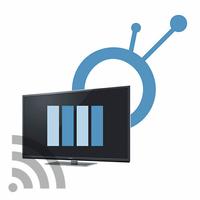 Media Player for Panasonic Viera TVs
Not Available
Removed
from the App Store
Media Player for Panasonic Viera TVs Description
This app will only work with 2011 or later Panasonic TVs, Blu Ray Players and Home Theaters which are certified DLNA DMRs. Please check your manual to see if your Panasonic model supports the DLNA DMR profile.

Just bought your internet connected Panasonic TV or already have one at home? Well, with this app you can unleash the power of your new Panasonic TV.

Simply download this app and access additional content, currently not available on the Panasonic TV itself as you use your iPhone, iPod touch or iPad to control your Panasonic TV over Wi-Fi.

Enjoy millions of videos, images, and songs anywhere and share them with your friends. Easily search and find interesting content from many sources, including your mobile device and home network, and watch it on your internet connected Panasonic TV or on your mobile device.

With the Media Player for Panasonic Viera TVs, you can do the following:
• SEARCH - Easily search, find, and browse videos, photos, or music and watch on TV directly from your phone or tablet.
• DISCOVER - Discover new and featured videos every day across a number of video topic channels for you to enjoy. Browse channels using easy-to-navigate video carousels.
• SEND TO TV - Stream music and videos directly to your Panasonic TV or mobile device. No installation needed (except this app).
• ACCESS MEDIA - Access your photo and social networking accounts to watch on your Panasonic TV.
• MANAGE PLAYLISTS - Create and Manage playlists of music and enjoy on your mobile or Panasonic TV.

FEATURES
• Video search
• Add to favorites
• View and manage history
• Watch on TV
• Create and manage music playlists
• Sharing
• Continuous video and music play
• Upload videos and photos
• Access to your DLNA Home Media Servers

BROWSE:
• Search and find your music, photos, and videos from multiple content sources including your iOS device, your home network or the Internet.
• Share via e-mail, Twitter, and Facebook
Content includes:
• Video Podcasts
• YouTube videos
• Your Music, photos, and videos (only from Camera Roll) from your iPhone, iPod touch or iPad
• SHOUTcast Internet radio
• Facebook videos and photos from you and your friends
• Flickr photos
• Picasa (Web Album) photos
• Local Media Servers, any DLNA or UPnP AV Media Servers in your home network

NOW PLAYING:
• The "Now Playing" screen provides information about the content that you are watching on your Panasonic TV.
• Music and Video player controls (i.e. previous, pause, play, next, and volume) appear, depending on the capabilities of your setup.

MYZAPPOTV:
• Sign out of ZappoTV.
• Delete your viewing history.
• Send application logs to ZappoTV.

THINGS TO KNOW
• MyZappoTV > Favorites, lets you access and manage your viewing history.
• MyZappoTV > History makes it super easy to watch previous viewed photos or videos.

REQUIREMENTS TO GET STARTED
• iOS 4.2 and later versions.
• ZappoTV account is required.

SUPPORT:
We love to hear from our customers! Please contact us at info@zappo.tv for any suggestions and improvements.
More Information
Language:

Catalan

Chinese

Czech

Danish

Dutch

English

Finnish

French

German

Hebrew

Hungarian

Italian

Japanese

Korean

Norwegian Bokmål

Polish

Portuguese

Russian

Slovak

Spanish

Swedish

More