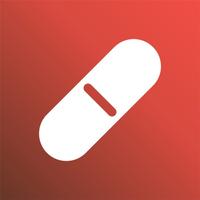 Meds Tracker: Daily Reminder
Not Available
Removed
from the App Store
Meds Tracker: Daily Reminder Description
Meds Tracker is an app with appealing and intuitive interface that helps you take your medications just in time. The more you adhere to prescript medication regimen the better health outcomes you get. This is especially true for chronic conditions. Meds Tracker app allows you to create different types of recurring reminders and strictly control medication taking accuracy.

Our team is driven by the mission of helping people around the world to keep their good health by taking medications the way they're supposed to. That's why we created our easy-to-use Meds Tracker.

Our pills taking monitor app has everything you need:

● Flexible medication taking scheduling
● Several Reminders for one pill
● Discreet notification: pill name is not shown on notifications screen
● Visual taking accuracy statistics
● Pills taking history for each med
● Medications taking calendar
● Pills taking history filters: by drug name, by time period
● Refill reminder
● Start and end dates scheduling
● Your own pics to differentiate meds


MAIN FEATURES

● Clean and simple, user friendly interface
● Intuitive pills organizer and notifications manager
● Keep track of the meds you have to take on regular basis
● Mark medications as Taken or Skipped
● All accurate takings and skipped takings are stored in history log
● Can be used with any medication, food supplement, vitamin that follows a regular schedule
● Visual takings accuracy indicator: you always know how accurate you are. It's very important when treating chronic conditions
● Manual history log editing when you took your meds not in time
● Take your own photo of each med for simple identification
● All types of dosage units supported: pills, teaspoons, millilitres
● Not overloaded with complicated side functions: just organize and track your medication takings

GENERAL

● All notifications are local, there's no need in internet connection
● Notifications remain active when the app is closed or device is asleep

If you need a pill manager try our Meds Tracker. It takes just a few seconds to set medication reminders you need. Meds Tracker sends you a notification according to preset schedule and serves as your personal pills monitor, tracking accuracy statistics and helping you to keep your health and wellbeing.
Meds Tracker: Daily Reminder 1.1.7 Update
- A lot of minor improvements under the hood.
More