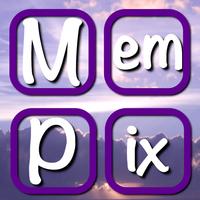 MemPix: photo matching game
$0.99
Screenshots for iPhone
More Screenshots for iPad
MemPix: photo matching game Description
MemPix© Overview

MemPix© is based on an old card game.
You can match:
-supplied photos (Mempix)
-your photos (MyPix)
-playing cards (deck)

Rules are simple: Try to match all pairs of cards.
You can use photos from your photo library.
There are numerous Options to customise MemPix©.
Privacy and security: Data entered into the MemPix© app including photos are stored only locally on your device.


Game Play

Deal the number of cards selected from Card Types.(Cards are dealt randomly)
Touch the back of a card to reveal the card face.
Touch another card to reveal it's face.
If the cards match: both faces will remain visible. Repeat from step 2 until all cards are visible.
If there is no match: both cards will be turned over to reveal the back of the cards. Repeat from step 2.


MemPix© Specifications

Card Types:
MemPix – Photos of animals and objects provided with the app by CJ Bakon Photography.
MyPix – Up to 40 photos choosen by you from your photo library. Managed in Options.
Deck – Standard deck of 52 playing cards.
Number of Cards you can play: 4,6,8,12,16,24,36,48,64 or 80
No Ads


Options

Timer on/off
Background animations on/off
Game animations on/off
Sound effects on/off
Personalise with your name
Add up to 40 of your photos
In Options you can also change:
background image or colour (option: Use one of your photos)
back of card image or colour (option: Use one of your photos)
background animation to snow, rockets, basketballs, flowers, smiley faces … etc
background animation icons colour
Matched pair reward icon
End of game animation icons
MemPix: photo matching game 1.0.3 Update
minor bug fixes:
- would crash when saving selected MyPix photos.
- issues when rotating the device whilst entering a new record.
-ipad end of game not appearing at bottom of game
improvements:
The background default images relpaced with smaller file size images that retain HiRes quality.
the app now takes up less space on devices.
some MemPix card face images replace with high quality images.
performance fix on the stop button.
More