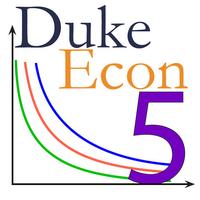 MicroEcon II - 5 - Tastes(2)
Free Get
MicroEcon II - 5 - Tastes(2) Description
Different Tastes and their Indifference Maps - animations and detailed audio explanations cover the indifference curves generated by several possible types of preferences such as Perfect Substitutes, Perfect Complements, Quasilinear and Homothetic Preferences. In the part B, the more advanced portion a graphical treatment of Marginal Rates of Substitution and elasticity of substitution is given. Finally we consider the effects of changing parameter values on Cobb Douglas and CES indifference curves.

This app is designed to be of value for any intermediate micro economics student preferences and indifference maps. First year grad students may find this material a useful review. It contains 11 animated graphs with voice overs that explain the graphs and topics in detail as the graphs unfold. The first 6 sections cover the material at the level of a calculus free version of intermediate micro. Sections 7-11 are at the level of an intermediate micro course that utilizes calculus.

The animations allow the user to see each graph created from beginning to end as Professor Nechyba's audio explains the economic concepts being illustrate. User can jump to whichever graph or portion of a graph is of interest or play through each graph in its entirety while listening to the accompanying audio. In most cases the audio is sufficiently thorough that listening without viewing may be valuable.

This app is based on Chapter 5 of _Microeconomics, An Intuitive Approach with Calculus_, 2nd Edition by Thomas J. Nechyba, Department of Economics, Duke University, Durham, NC and developed in conjunction with Professor Nechyba for the Duke University Department of Economics Micro Economics curriculum.