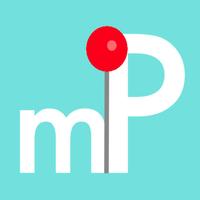 midPoint.
Free Get
midPoint. Description
midPoint. is the easy way to meet up with friends. Find the best location to have a meal, watch a movie, or even play a pickup game of your favorite sport. midPoint. makes it easy to choose the most optimal meeting point: one thats right in the center of you and everyone you want to meet with.

It's simple. Just choose your friends, select your meeting place of preference (e.g. restaurant, movie theater, etc.), and done! midPoint. will do the rest for you. No need to search the internet for hours on end trying to find a place that works for everyone. midPoint. finds the exact center of you and your friends. midPoint. can use your current locations, or even your home addresses, whichever you decide to travel from.

Make planning a meet up quick, easy, and effective. midPoint. facilitates an otherwise tedious process. Each person will have to travel the same amount to get to the optimal meeting point, making sure it is not too far out of certain people's ways.

After you find your midPoint., you can text your friends from midPoint. itself, to tell them where you want to meet. You can even open the location up in Apple Maps, to see how long travel time will be.

Download midPoint. and start finding your optimal meet up locations now!

Disclaimer:
Continued use of GPS running in the background can dramatically decrease battery life.

midPoint. by Rishi Masand and Nikhil Jain
midPoint. 1.2 Update
You can now add custom locations to find the midPoint between in addition to using the locations of your friends.
More