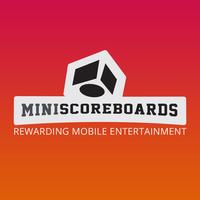 MiniScoreboards Trivia
Free Get
MiniScoreboards Trivia Description
Here In ' Mini Scoreboards' provides interactive live game sync'd digital scoreboards for the bar &entertainment industry that enriches watching sports to create a premium sports experience that will immerse your brand with what your consumers are most passionate about.

Once set up, the scoreboards proprietary software will have access to live streamed NHL data. The software will allow customizable sounds and game features. Plus, you'll have the opportunity to customize the digital signage with your current promotions, videos, menu items – the choice is yours! We provide complete turn-key marketing solutions and set-up support, whether it's designing an ad or helping you develop sponsorship with breweries and businesses.

+ Digital display screen
+ Complete live game sync'd data for the NHL
+ Live game data including out of town scores
+ Automated goal notification and NHL team arena horn
+ Social media integration enables customers to connect with friends and follow your feeds
+ Easy set-up
+ National anthems
+ Other arena sounds, such organ music, boos and cheers to bring the stadium to you!
+ Flexible digital ad space for all forms of ads

Download the app today!