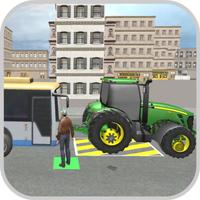 Mission Tractor City Road
Not Available
Removed
from the App Store
Mission Tractor City Road Description
Mission Tractor City Road is for the lovers of tractor farming games or tractor bog games .Now get behind the heavy tractor wheel and win the best racing of the life. Messey tractor diesel power sim drags the car while keeping the balance of the car on the road with offroad pulling chained bus driving. Pulling chained tractors driving, Buses pulling games tractor and truck tow and pulling tractors driving simulator. Pulling tractors games sim to the tractor back are moving furiously on the road behind the truck with offroad driving games 3d.
Features:
- Stunning 3D HD graphics for offroad pulling chained bus driving.
- A realistic mountainous environment with breathtaking visuals.
- Multiple challenging levels for the free pulling chained bus.
- Limited time slot to complete the level.
- Realistic experience of farming tractor chained bus transport.
- Multiple camera angles.
- Realistic sounds effects.
Mission Tractor City Road 1.0 Update