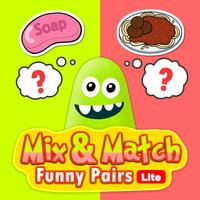 Mix & Match Funny Pairs Lite
Free Get
Mix & Match Funny Pairs Lite Description
Get ready to laugh, cringe or lick your lips as you make your own crazy, funny, silly, yucky or yummy pairs to help the cute aliens find out what humans like and don't like! From JAM IN YOUR SOCK and A SPIDER ON YOUR HOT DOG to MILK ON YOUR SPAGHETTI or MUSTARD ON YOUR TOOTHBRUSH, kids will laugh out loud as they see the crazy combinations they create. There are over 140 DIFFERENT MIX and MATCH PAIRS TO MAKE! OVER 1200 PAIRS in the FULL VERSION!!!

!!!DON'T MISS THE GREAT-VALUE FULL VERSION!!!

SIMPLE TO PLAY! PERFECT FOR LEARNING!
Simply swipe the top and bottom images to MIX, MATCH & MAKE some of the CRAZIEST, FUNNIEST PAIRS you've seen. Some are silly, some are yucky, but some are just right! With HIGHLIGHTED TEXT, plus optional AUDIO, for each pair, it's an app that provides GREAT READING & LISTENING PRACTICE TOO! The BRIGHT, COLOURFUL AND CUTE IMAGES, make it perfect for even the youngest of learners.

*** PERFECT FOR NON-NATIVE SPEAKERS OF ENGLISH TOO!***

TELL THE ALIENS WHAT HUMANS LIKE OR DON'T LIKE!
The cute aliens have just landed on planet Earth and want to find out what people like. Can you help them? When you make each pair, just tap the 'I LIKE IT!' Or 'I DON'T LIKE IT!' buttons to see what the aliens think of your choice? They might not always agree with you!

SAVE & SHARE WHAT YOU LIKE AND DON'T LIKE
A list of 10 things you like, and don't like, is saved as you play. Why not share them with your friends, classmates or family? Does everyone agree with you?

CHECK OUT THE FUNNY THINGS YOU CAN MIX…

YOU COULD HAVE THESE… custard, soap, a fish, a foot, a spider, a fried egg, a worm, jam, milk, mustard, or toothpaste…

on your pie, in your sock, in a fishbowl, in your sock, on your French fries, on your toast, on your cereal, on your hot dog, on your spaghetti, on your pizza or on your toothbrush.

HOURS OF FUN AT HOME OR AT SCHOOL
With so many wonderful combinations to create, your children or students will keep coming back for more. It's even more fun if you sit down with your child or student and play together. For teachers, why not play it with the whole class too?

Please check out our other EDUCATIONAL APPS here: http://apple.co/18xZAGc

Developed by award-winning online & mobile education specialists, Cambridge English Online Ltd, with 10 years' experience creating fun online and mobile resources, this app has been tested and reviewed by teaching professionals and parents.

Visit www.cambridgeenglishonline.com , our Developer Page, or visit your local App Store and search for 'Cambridge English Online'

*Please email ceoi@cambridgeenglishonline.com with any comments, questions or suggestions.

If you like our apps, please recommend them to your friends so that we can keep making great-value, high quality educational apps for all.
Mix & Match Funny Pairs Lite 1.1 Update
Cookies/Privacy information added.
More