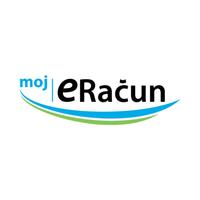 Moj-eRačun Scanner
Free Get
Moj-eRačun Scanner Description
Moj-eRačun Scanner is the fastest way to scan your business documents.

Moj-eRačun Scanner je najbrži način za skeniranje Vaših poslovnih dokumenata.

Moj-eRačun Scanner omogućuje vam da svoje poslovne dokumente iz papirnatih u jednom kliku pretvorite u elektroničke dokumente i unesete ih u Moj-eDMS.

Značajke:

Ugovore, račune, posjetnice i druge poslovne dokumente jednostavno skenirajte Moj-eRačun Scanner aplikacijom te je automatski pohranite u Moj-DMS, dijelite dokumente unutar tvrtke i odmah prilikom skeniranja potvrdite njihov sadržaj. Aplikacija vam omogućuje da automatski odredite vrstu poslovnih dokumenta, što olakšava njegovu daljnju obradu.

Optimizacija kvalitete skena:

Pametno rezanje i automatsko popravljanje skeniranog dokumenta omogućuje da tekst i grafike izgledaju čišće i oštrije.

Dijeljenje dokumenta:

Skenirane dokumente jednostavno prenesite u cloud ili Moj-DMS i ubrzajte poslovne procese. Ne morate biti u uredu da bi dokument bio obrađen. Sve skenirane poslovne dokumente možete dijeliti sa suradnicima gdje god se nalazili.

Moj-eRačun Scanner aplikacijom možete skenirati:

- ugovore, račune, virmane, narudžbenice, otpremnice, primke, odobrenja, blagajnički izvještaj...
- posjetnice, pisma, dopise, poruke, memorandume, certifikate...
- članke, službena glasila, pravilnike...
Moj-eRačun Scanner 1.0 Update
This update is signed with Apple's latest signing certificate. No new features are included.
More