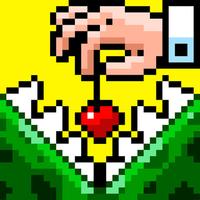 Monster Feeder
Free Get
Screenshots for iPhone
More Screenshots for iPad
Monster Feeder Description
-==THE COOLEST INSTANT GAME ON THE APP STORE==-
Ever wanted to feed hungry monsters? Here's your chance! Monster Feeder is an old-school arcade style casual game. Become a Monster Feeder and feed your monsters with fresh meat and vegetables! Unlock awesome themes and famous-like monsters, then go up to the top of the leaderboard and share your success on the net.

"10/10 would play again" [Wouldplayagain129745]
"Great, fast-paced addiction." [Connor Smith]
"Fun, addictive gameplay" [Lollpplppolofat]

Monster Feeder grants instant fun while it is packed with more than a dozen monsters, a fistful of themes, a couple of leaderboards, several achievements and who knows how many hours of fun!

Don't let your monsters starve!

"A+ SINCE THE UPDATE!" [by Fwymommy]
"Grand" [Punkylass]
"Addicting and fun" [Lillybobbob]

Monster Feeder is available as a FREE download.

Contents:
- Retro-style pixellated graphics and chiptune soundtrack
- 22 unlockable monsters
- 7 themes
- 23 achievements
- Game Center support (leaderboards & achievements)
- Social media support (facebook, twitter, youtube)

Monster Feeder explained:
The player takes the role of a Monster Feeder, who's task is to feed his monsters with the appropriate food: meat for the carnivorous, and vegetables for the herbivorous. The task is simple, but the challenge is high due to the random order of meal and urgent time limit. The game rewards both one time success and long-term engagement as extras can be unlocked based upon top & total scores. Users can unlock more than a dozen famous-like monsters and new themes as they progress through the game. Every result can be shared through the usual social network channels like facebook, twitter and youtube. There are leaderboards and achievements as well via Game Center. Ads can be disabled and contents can be unlocked with in-app purchases. It's a quick fix game which can be enjoyed in really short bursts as one session could last for a couple of seconds. The controls are extremely simple as the game mechanic needs only swiping and this can be achieved with one hand too. So it's ideal for all kinds of mobile players on the go.

Monster Feeder is a cool instant game featuring pop-cultural references, superfast-paced gameplay and retro-themed presentation.
Monster Feeder 1.2 Update
New features:
√ 8 new monsters to unlock!!! Meet Kexman, Budo, Flesh Joe, Grubby, Tusk-R, SnottyX, Flossy and Undy! All these uglies are waiting for you to feed them.
√ 2 new themes!!! Feed your monsters in a florid restaurant and in a cubic world.
√ 8 new achievements!!! Raise your Game Center score with 200 additional points, as each new challenge gives you 25 achievement points for completion.
√ New challenge types!!! Insane scoring challenges awaiting you.
√ New app icon!!! A beautiful new, ultrasharp, high-res, flamboyant app icon for a better user experience. OK, the icon is actually pixellated, but still cool.
Several bugfixes:
√ Performance update!!! The game runs smoother than ever before. 60 FPS fans will be pleased.
√ Small fixes!!! These are so small, that don't deserve more words to explain.
More